Morocco is a popular destination in North Africa, attracting culture-lovers, backpackers, adventure travelers, foodies, and more.
What does Morocco offer?
This beautiful country boasts of rich history and culture with its old imperial cities and stunning architecture. If you are looking for a great outdoor adventure, this also has gorgeous beaches along the coastlines and diverse mountain ranges for hiking, horseriding, and biking!
Morocco is known for its tasty cuisine. There's an abundance of spices in a typical Moroccan kitchen, adding plenty of flavor to dishes. Bread is a staple food, and there are various types, such as khobz, msemen, and baghrir to enjoy. You'll also find numerous sandwiches and pizzas, as well as a wide array of Moroccan pastries.
What to expect when traveling to Morocco
Morocco imposed travel restrictions like the rest of the world to fight COVID-19. The good news is, they reopened their borders to foreign nationals not subject to visa requirements. This will start on September 6 this year! Filipino tourists are included in this list but there are still some requirements before you can fly there:
Hotel reservation in an accredited hotel or tourist establishment (includes riads, or traditional Moroccan houses)
Negative results of an RT-PCR test for COVID-19 dated no earlier than 72 hours prior to departure
Passenger health form completed online printed and signed.
Upon arrival, you must download you must use the Wiqaytna, an app for the contract-tracing by Morocco's Ministry of Health. During your stay, take note of hotlines and emergency phone numbers especially the number to call in case you are experiencing COVID-19 symptoms.
Moreover, restaurants and cafés close at midnight, and you need to make a prior reservation. You must also wear a face mask before entering the premises and when going around inside them. Sad to say, several museums and cultural places are still not open, but you can enjoy public nature parks, resorts, and wellness centers.
For the mall and local stores, they are still limiting the number of customers. You must maintain distance while shopping for pasalubongs or queuing for payment.
Are you guys adding this to your travel plans this year?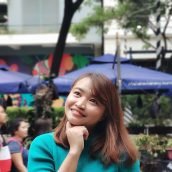 Hailey Alcantara
Queenie Lasta got her bachelor's degree in Communications Research from UP Diliman. In her free time, she likes to read thriller novels, psychology books, and mangas. She believes in the importance of grit, hard work, and passion to become a great writer in the future.