A short video of a five-minute disinfection routine in MRT went viral because it shows how hasty and thoughtless the process is. Because of this, the Department of Transportation (DOTr) released a video to show how their staff disinfects the coaches.
DOTr will not tolerate any breach of health protocols among staff
The MRT performs a five-minute disinfection "hustle" whenever a train reaches the terminus at either North Avenue Station or Taft Avenue Station. According to DOTr-MRT, the staff sanitizes the hand straps, handrails, and seats of each train coach. They added that elevators, escalators, restrooms, and other facilities of the MRT-3 are regularly cleaned as well.
Moreover, the agency said that they copied this routine from Japan's "seven-minute miracle". In Japan, PUV operators clean bullet trains or the Shinkansen within that time limit. This is to allow for fast departure and accommodate its busy passengers.
Meanwhile, the MRT-3 is the only railway that travels EDSA to connect people to different cities in the capital region. This is why this route is crucial to passengers who work in the country's economic and financial hub.
Netizens were alarmed because of the hasty disinfection.
Last Saturday, a netizen shared a clip of two MRT personnel performing the disinfection. The video shows that they ate quickly walking down the train coaches and doing disinfection measures. Because of this, online users think that they are doing "lazy" work. Others said that the cleaning method at the MRT is quite concerning. A Facebook user wrote, "Parang nag-hi-high five lang si Kuya ah."
A day after that, the DOTr released a statement through its MRT-3 Facebook page. They are trying to reassure that they are doing what they can to disinfect the busiest railway in the country. The agency said, "We are assuring the riding public that matters have been taken to prevent a repeat of that unfortunate incident and that the personnel involved are now facing disciplinary action. The MRT-3 management will not tolerate any breach of health protocols as we stem the spread of COVID-19 while serving the daily transportation needs of commuters."
The DOTr added that it has reminded its staff about doing "focused" disinfection despite doing it quickly. This is to keep the passengers' safety as the top priority.
What do you guys think?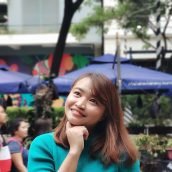 Queenie Lastra
Queenie Lasta got her bachelor's degree in Communications Research from UP Diliman. In her free time, she likes to read thriller novels, psychology books, and mangas. She believes in the importance of grit, hard work, and passion to become a great writer in the future.