Samsung Galaxy Buds is now improved with functional yet exciting updates
Photo from Samsung
Working from home is surely challenging since there are so many distractions. But with a great pair of earbuds, you can block away unnecessary noises and focus on your tasks. The Samsung Galaxy Buds can be your buddy for your remote job, home workouts, or music relaxation. These TWS are now even better with cool updates for connectivity and features!
Galaxy Buds are now more convenient to use like the Galaxy Buds +
As announced yesterday, Samsung Electronics just equipped new enhancements to Galaxy Buds by a software update. These features were only included in the Galaxy Buds+ before but Galaxy Bud's users can also enjoy them too.
Here are the improved features of the Samsung Galaxy Buds:
Easily Pair Galaxy Buds with Your PC
Samsung added a Microsoft Swift Pair feature so you can pair your Galaxy Buds with your PC that has a Windows 10 operating system. Aside from that, this permits you to use the Galaxy Buds for work-related tasks. This may be handy video meetings via Zoom or Google Hangouts or for your music playlist to help you energized.
With the addition of Swift Pair compatibility, Galaxy Buds can now support multiple pairing to mobile and PC devices. It means you'll have more freedom to easily connect to, and switch between your favorite devices.
Tune In, or Out, of the World Around You
For the first time, Galaxy Buds users can now appreciate the automatic Ambient Sound feature. To do this, simply place your earbuds in your ears. You'll be able to turn the volume up but still hear your surroundings. Even with only one earbud in use, Ambient Sound is still active. This means you have more control over tuning in or tuning out the world around you. This may be helpful when you are working on your PC and at the same time looking out for your kids.
Instantly Listen to Your Personalized Playlist with a Single Press
Who doesn't love Spotify for listening to their music playlists? You can now listen to your personalized music on this streaming app instantly. Launch Spotify by a simple 'Tap and Hold' gesture then start listening wherever you left off on your playlist. If you don't like the song, tap and hold again so Spotify can recommend other playlists.
With these two updates mentioned, you can start playing your personal soundtrack instantly, as soon as you need it and be able to focus as much as you need.
Samsung Galaxy Buds come in three colors of white, black, and yellow. It is now sold nationwide for PHP 6,990!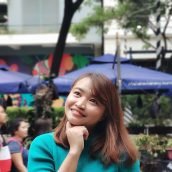 Queenie Lastra
Queenie Lasta got her bachelor's degree in Communications Research from UP Diliman. In her free time, she likes to read thriller novels, psychology books, and mangas. She believes in the importance of grit, hard work, and passion to become a great writer in the future.