You can disinfect your dinner and kitchen utensils with Sharp Healsio Oven
There's no denying that Filipinos love to eat as we can see numerous posts about food on our feeds. You can see some are making use of their time by learning a recipe or two. And that's a good thing, but we should also keep our kitchen and dining place clean all the time. It does not only include the appliances we are using, but also the dining wares and the kitchen utensils. If we're not careful enough, germs and bacteria might breed on them that may cause illness or food poisoning.
Sharp Healsio Oven is a great tool to make sure your utensils are germ-free
Sharp has great news as it is sharing how the Healsio AX-1700 oven can be functional for sanitizing. Thanks to a big amount of steam, you can sterilize your dishes, lunch boxes, and even baby bottles.
Sterilization has two options, depending on the heat-resistant temperature. Items like plastic containers, ceramics, stainless kitchen knife considered can withstand heat up to 120 degrees Celsius. Meanwhile, there are items that can only resist up to 90 degrees Celsius. It can be a plastic cutting board or towels.
How to sterilize your dinner wares and kitchen wares using this oven?
In sterilizing your kitchen items, the first thing to do is turn the knob to your chosen option. Press the start button then wait for the cooling process shown with 4 bar lights. Check the water level if the amount is correct. After that, put the items directly on the baking tray, facing upwards.
If you prefer, you can put baking paper on the baking tray. Also, check the heat resistance of your container's lid (if there's any). The last step would be removing the baking tray slowly and horizontally.
To know more about this appliance, you can check the official website of Sharp by clicking this link.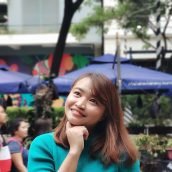 Queenie Lastra
Queenie Lasta got her bachelor's degree in Communications Research from UP Diliman. In her free time, she likes to read thriller novels, psychology books, and mangas. She believes in the importance of grit, hard work, and passion to become a great writer in the future.