Get creative on your aerial shots with the upcoming DJI Mavic Air 2
Image from DJI
We can see that drones are no longer for leisure only. Why? It's all over the news that government officials are using drones to sanitize places and remind citizens of social distancing. Before the quarantine, photographers have often utilized drones for aerial shots in SDEs and prenup videos. So if you want to hone your artsy side, the DJI Mavic Air 2 might interest you.
A compact drone that can shoot quality videos and photos
DJI introduced the first Mavic Air two years ago and people liked it for its petite size. However, the device had a poor Wi-Fi connection according to some reviews. Now, the company had come up with the new Mavic Air 2 as a folding drone with 4K video recording. Allegedly, this version is more compact than its predecessor and more capable of capturing photos. Aside from that, it features enhanced video recording and longer usage time. On a single charge, you can fly the Mavic Air 2 for 34 minutes as it has 3,500mAh battery power.
Instead of WiFi, DJI equipped this with support for 2.4GHz and 5.0GHz OccuSync 2.0 connection. The change from WiFi connection from the original Mavic Air to the OccuSync 2.0 on the Mavic Air 2 upgrades the flight range to 10 km. This device also has an advanced pilot system that includes object avoidance. It means you don't have to worry about bumping it by accident.
As for the video recording, this DJI drone can capture up to 4K at 60 frames per second at 120 Mb/s, 4K at 30fps HDR, and 1080p 240fps slow-motion. Meanwhile, it can take 12MP photos with a 48MP super-sampling through the 3-axis gimbal.
It also has a new feature called SmartPhoto. This enables you to record photos using advanced scene analysis and deep learning. After that, it will automatically select one from three image capture options: HDR, Hyperlight, and Scene Recognition.
Price and availability
The DJI Mavic Air 2 is now available for purchase in China and will be released in the US in mid-May with a starting price of USD 799.
In the Philippines, the Mavic Air 2 starts at PHP 39,990 for the standard package while the Fly More Combo starts at PHP 52,990. This includes the standard version with ND filters, Charging Hub, and two extra batteries. However, we are still waiting for the announcement regarding its availability here in the Philippines.
Stay tuned!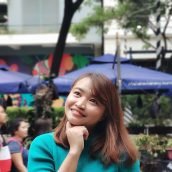 Queenie Lastra
Queenie Lasta got her bachelor's degree in Communications Research from UP Diliman. In her free time, she likes to read thriller novels, psychology books, and mangas. She believes in the importance of grit, hard work, and passion to become a great writer in the future.