Pinoy comfort foods we crave during rainy season
Being at home with your family during stormy weather means some quality time and bonding. Eating your favorite hot meals is one of the best ways to bond with your loved ones. Let's see the common comfort foods Pinoys usually consume during bed weather.
What do you usually love to eat when rain is pouring hard?
Lugaw
This dish often associated with sick days since the aroma and warmth of the rice porridge gives comfort. Yes, you are right! We're talking about Lugaw. This dish is flavored with patis (fish sauce) and a little ginger for the basic. But sometimes, it contains tenderized pork intestines (tuwalya), shredded chicken, and boiled egg. As a finishing touch, you can garnish lugaw with a sprinkle of spring onions and toasted garlic bits then you're good to go.
Champorado
Champorado is a close sibling of Lugaw since you need glutinous rice for both of them. However, this dish is perfect for those who have a sweet tooth. As mentioned, it is made of glutinous rice but it also has cocoa tablea, white sugar, and milk. Better to pair it with salted fish (tuyo) for that sweet and salty combination!
Bilo-bilo
Filipinos must really love rice since this is the third dish made of rice, glutinous rice to be exact. Ginataang bilo-bilo is a sweet coconut-based dessert soup with tapioca, chewy rice balls, and a variety of fruits and tubers. Jackfruit, saging na saba and sweet potato are the typical add-ons of this merienda since these give color, texture, and flavor.
Sopas
There is nothing like having a bowl of hot creamy  Sopas to make you feel warm and comfy on a cold day, especially this stormy weather. This makes use of boneless chicken breasts, hot dogs, cabbage, and carrots as its main ingredients. On the other hand, evaporated milk brings creaminess and richness in this soup.
Bonus tip: You can also substitute corned beef if you don't have fresh meat.
Lomi
Lomi is one of the reasons why we want to have a food trip to Batangas. You can taste the boiled pork slices, chorizo, and vegetables along with fresh round noodles that are cooked in a rich and thick soup base. It is usually consumed for breakfast on a cold day but also eaten as a heavy snack or hangover soup.
Bulalo
Even though this dish spells heart attack or cardiac arrest, you cannot say no to a steaming bowl of bulalo. A beef soup comprised of the shank with bone marrow still inside the bone, this is one of the most favorite main dishes of Pinoys. Indeed, you'll be able to finish many cups of rice with this.
What other comfort food comes in mind with this kind of weather? Feel free to share!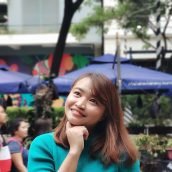 Queenie Lastra
Queenie Lasta got her bachelor's degree in Communications Research from UP Diliman. In her free time, she likes to read thriller novels, psychology books, and mangas. She believes in the importance of grit, hard work, and passion to become a great writer in the future.