Have a healthy lockdown with Fit Food Manila
Fit Food Manila
Since we stay inside our homes, it's easy to ditch diets and munch whatever snack we can find inside our refrigerators right? But if want to shed those pounds away, we should always choose to do what's right for our bodies. This entails choosing the right kind of foods and sticking to appropriate portioning even though "rice is life". Let me introduce to you Fit Food Manila, your partner for healthy, convenient but oh-so-yummy snacks and meals.
Fit Food Manila can help you be mindful on what you eat
Based in Parañaque, Fit Food Manila is a health food restaurant that also delivers packed meals upon subscription. You can choose from four different meal plans customed to your needs: If you want to enjoy balanced and calorie-counted meals, Fit Food Original. As its name implies, Fit Food Keto is for those who want to test the keto diet. If you are lowering your blood sugar and prefer a high fiber diet, Fit Food Plus is perfect for you. You can also take good care of your heart by selecting the Fit Heart Meal Plan.
How to order from Fit Food Manila?
So how can you order? Visit the Fit Food Manila website then proceed to the 'Shop' tab. This contains the list of available products with their descriptions and corresponding prices. For example, this delicious Japanese Yakimeshi Caulirice is described to be a suitable and healthy substitute for rice. It is low carb, low glycemic, low fat but high in fiber. Aside from that, it is loaded in B Vitamins and antioxidants.
Fit Food Manila also noted that they always deliver foods freshly cooked but there will be a lead time of 1-3 days. This is to make your order to account for delays due to the current lockdown. Best to consume in 4-6 days if kept in the ref and in 2-4 months if kept frozen.
Simply choose the pack quantity and your area of residence from the dropdown selections. There's a delivery charge of 50 to 90 pesos depending on your location. If you are already sure of the items you are going to order, you can now proceed to checkout. This is where you need to accurately fill in the information for shipping details. Also, you have to finalize your orders, delivery method, and payment method.
To know more about Fit Food Manila, you can send them a private message on their official Facebook account or call 0917 724 0222.
Remember, your health and fitness during quarantine depends on you. Make the sensible choice by ordering at Fit Food Manila!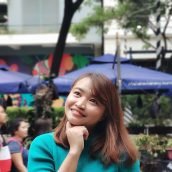 Queenie Lastra
Queenie Lasta got her bachelor's degree in Communications Research from UP Diliman. In her free time, she likes to read thriller novels, psychology books, and mangas. She believes in the importance of grit, hard work, and passion to become a great writer in the future.