'New Faces, New Forces' 2023 winners named
Photo | Dix Perez
The modeling competition New Faces New Forces brought by Lourd Ryan Ramos recently named its latest batch of winners for the 2023 edition.
In 2019, hair care expert and Creations Salon's CEO Lourd Ryan Ramos launched the New Faces, New Forces. The event aims to mold the capacity and potentiality of Filipino models while strengthening the practice itself.
"The main goal of this competition is to raise the bar for our Filipino models. Foreign acts are constantly dominating the modeling industry. Thus, I saw the need to step up," Ramos said in an exclusive interview.
This year, several novel aspirants attempted to join the New Faces, New Forces. After careful deliberation, victors have claimed their thrones.
2023 winners of 'New Faces New Forces' named
According to Ramos, New Faces, New Forces got overwhelming support, proven by as many as 596 set cards of applicants they received. The search was widely held from Luzon, Visayas, and Mindanao, while four competitors originated from Spain, Singapore, Macau, and Hawaii.
Out of nearly 600 entries, only 30 selectees advanced to the preliminaries. Organizers then further reduced the number to the top 15 for the final round. Here, models vied to excel in three cycle shoots: Denman Brush, Jumping Motion Shot, and The Couture Glam.
Meanwhile, New Faces, New Forces invited deserving individuals to compose the board of judges. Offered their expertise are fashion photographer Dix Perez, pageant mentor Tito Norman, accessory designer Christopher Munar, beauty pageant and stage director Raymund Seranillo, and pageant blogger Tita Lavinia.
Likewise, Mr. Gay World Philippines 2022 Jhapett Raymundo and aesthetic surgeon Dra. April Ching joined Ramos in the evaluation process.
Additionally, Mud Studio Manila and iColor Philippines are in charge of hair and makeup, respectively.
Below is the complete list of winners:
Top Male Model

Winner: Topher Astraquillo
Runner-up: Joel Rey Carcasona
Top Female Model

Winner: She Mikay Baruiz
Runner-up: Keidie Davis
Top Diverse Model

Winner: Louell Celis
Runner-up: Neil Aldrin Perio
Furthermore, the New Face, New Forces winners were granted opportunities to endorse various brands and sponsors apart from cash prizes. Some were also offered to undergo training to build their network and portfolio. Of course, the reigning competitors have been automatically named the new face of Creations Salon.
For the consequent editions, mastermind Lourd Ryan Ramos promised a bigger moment for local models to flourish and thrive.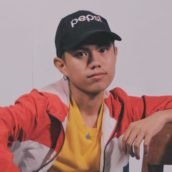 Renzneil Robles
Renzo is an introvert who prefers to do things at his own pace. Unlike most writers, he reads lazily. Watching Korean dramas at night is his constant source of comfort. Although oftentimes commended for being outspoken, he speaks better through writing than with his words.