Margielyn Didal is engaged!
Photo | dcat.studio via Margiely Didal (Facebook)
Filipino skateboarder Margielyn Didal is a gold winner not only in her chosen sports but in her love life too!
Didal is a 23-year-old professional street skateboarder and a native of Cebu. She rose to popularity after being the first-ever representative from the Philippines to have competed in the 2018 X Games. The annual action sports competition took place in Minnesota, United States.
In the same year, Didal earned more fame through Asian Games, where she entered as the country's delegate. She won a gold medal in this continental multi-sport event, giving her and the practice more spotlight.
As a result of her growing influence, the American publication Time Magazine named Didal as one of the 25 Most Influential Teens of 2018. She also received the Skater of the Year title at the 2020 Asia Skate Awards.
Margielyn Didal announces engagement
On Tuesday, Didal announced her engagement to her long-time partner Jozel Manzanares. She broke the news among his followers through social media.
"Yes or YES?!! Happy 8th Anniversary mybytch, and cheers to our new Begingneng," Didal penned in jest. She also mentioned and thanked a few friends for their help.
Additionally, Didal posed lovely with her betrothed while on a romantic setup, as seen in the post. The photographs were captured moments after the skateboarding superstar staged her proposal to her girlfriend of almost a decade.
According to a report by GMA News, Didal proposed to Manzanares in time to celebrate their 8th anniversary as a couple.
Meanwhile, Manzaneres flaunted her spouse-to-be in a separate post on Facebook. "I love you forever," she wrote to caption their pictures together.
Congratulations, Margie and Jozel!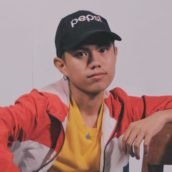 Renzneil Robles
Renzo is an introvert who prefers to do things at his own pace. Unlike most writers, he reads lazily. Watching Korean dramas at night is his constant source of comfort. Although oftentimes commended for being outspoken, he speaks better through writing than with his words.