Lucas sets sight on solo activities, departs from NCT and WayV
Photo | Lucas (Instagram)
South Korean K-Pop powerhouse SM Entertainment has confirmed the departure of Lucas from his group NCT and its sub-unit, WayV.
On Wednesday, May 10, the giant entertainment agency turned to its social networking sites to address the news. They released an official statement to elaborate on Lucas' departure.
"We have an announcement to share with you regarding Lucas. After our deliberate discussions, we made a mutual decision to part ways with the group NCT and WayV."
Moreover, the statement asked the fans for understanding, affirming careful consideration of other members. Lucas will reportedly pursue solo endeavors as he steps out of his band.
"Lucas is planning on showing his performances through a wide variety of individual works from now on. We sincerely appreciate [the] lavished love and support from all the fans and your continuous support and interest in the future."
With Lucas' absence, there are currently 21 members left for NCT and five sub-units.
Lucas writes letter for fans, NCT members
Meanwhile, Lucas posted his handwritten letter on Instagram containing his message for his fans and bandmates.
"I sincerely feel sorry for the members, and it is with a heavy heart that I leave behind a long-standing friendship. It has been nearly eight years since I joined [NCT], and I am deeply grateful for their care and support. I will cherish these memories and never forget [them]."
Additionally, the 24-year-old expressed his hopes for his members to remember him as Huang Xuxi, not just Lucas. He also acknowledged that his leaving would be beneficial for all involved.
For his supporters, Lucas extended his gratitude and promised to show his improved artistry.
"I believe the best way to repay the fans who support me is by continuing to deliver outstanding performances. I will strive to become more mature and even better."
In August 2021, Lucas was involved in a controversy regarding his past actions towards his ex-girlfriends. After an apology, his agency announced his hiatus to contemplate his behavior.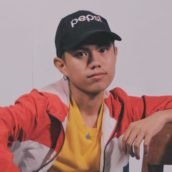 Renzneil Robles
Renzo is an introvert who prefers to do things at his own pace. Unlike most writers, he reads lazily. Watching Korean dramas at night is his constant source of comfort. Although oftentimes commended for being outspoken, he speaks better through writing than with his words.