Lallaina Ashley Del Mundo is a finalist on Pinoy Big Brother 8. She is known as the Adventurous Angel of Australia.
She came from Star Dreamer of Camp Star Hunt before becoming an official housemate.
Ashley was known for her soothing Australian accent and feminine personality.
She was also linked with some of the guy housemates, but what stayed, in the end, was her friendship with Tan Roncal. They became a loveteam called "AshTan".
Moreover, with her kind personality, competitiveness, and perseverance, she became the winner of PBB 8, Batch 3.
After she went out of the house, her followers on Instagram quickly grew to a million.
Ashley currently has 1.8 million followers and she is often praised by her fans for her looks and OOTDs.
Let's take a look at these photos and get to know her more!
Full of Elegance
Ashley is looking very chic and sophisticated with her hair in a high ponytail in this photo!
She's wearing a white dainty sando corset top and brown trousers.
It screams elegance with her mouth slightly open and a little heads up!
What PBB fans love about Ashley is how she handles a hard situation in Big Brother's house with maturity.
Likewise, she faces all the issues that concern her with calmness and control.
She does not let what other people say hinder her from being kind and achieving her dreams.
Ashley in your Area
Ashley is showing her style in this outfit!
Wearing a white cropped top polo, black pants, and a black bag isn't something that Jennie Kim would wear?!
Ashley is dubbed as the "Jennie Kim of the Philippines" after she recreated the KPOP artist's famous Instagram look in her Kumu livestreams.
Fans often see her style as similar to Jennie's and think of her as the Filipino version of the idol.
Slaying in fashion
Ashley looks like a pretty fairy with her lovely smile in this picture.
With this pink floral off-shoulder floral gown, she gives off a fairytale vibe.
Because of her sense of fashion style, it is no wonder she became one of the ambassadors of the Apartment 8 clothing line.
Actress Ashley
Ashley looks cute and beautiful in this photo. She is wearing a green dress with a pink ribbon.
She is looking at the direction where her career will rise.
Before she joined PBB, she once attended an acting workshop with Ogie Diaz wherein he told her to come back when she knew how to speak Tagalog.
Ashley did her part, and now she plays the character of Khloe Gomez in the romance-comedy series He's into Her.
Girl on move
Ashley's slim and sexy body is accentuated in this photo!
With a white crop top and khaki skirt, she's got the looks of a pretty girl next door!
Ashley is more than just a pretty face, she is a sporty one. She plays basketball and soccer.
Moreover, this girl loves to move and was part of a dance group in Australia.
This young actress on the rise didn't let the fact that she didn't speak English stop her from following her dreams.
She can give more in the entertainment industry as she becomes more mature.
Follow her on Instagram at @lallainashley for more!
Keep slaying, Ashley!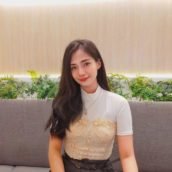 Veronica Louis Gannaban
Nica is a resin artist, watercolor painter, and writer. She loves putting art into life because it feels liberating. She believes that the most powerful form of art is through words, for it can set us free. Her life is sweeter than fiction because of Taylor Swift's music, fur babies, and chick flick movies.