Pamela Prinster is a rising actress from GMA Network; she came as a finalist in StarStruck Season 7.
She has already played roles in Stories from the Heart: Loving Miss Bridgette (2021), That's My Amboy (2016), and Karelasyon (2015).
Pam just turned 22, but despite being young, Pamela has an oozing fire inside her, ready to show us how talented she is.
But more than that, with her gorgeous visuals, Pamela is also serving us an IT-Girl look!
Take a look at these photos from her Instagram!
Alluring Genie
Pamela Prinster is here to make your wish come true!
The knitwear study ensemble accentuates Pam's editorial-like body, making her a perfect model for this shoot!
Photographer Josh Tolentino perfectly highlights Pam's skin tone and strong facial features.
Well, with Pamela's 5″7 height and on fleek body poses, we can see that she can be a great model too!
Magazine Model
With Pamela Modelsque's look, she can be the ideal model for your brands!
Pam was part of the September 2021 issue of L'Officiel Philippines.
She carries that Louis Vuitton bag in an edgy yet delicate style.
For sure, we will see more of her in different magazines!
A Goddess
Is this Aphrodite in the flesh? Who wouldn't be mesmerized by this photo of Pam taken by Charisma Lico?
Pamela Prinster is the definition that God is a woman indeed!
This silk jumpsuit and the warm lighting amidst the dark background made Pam's beauty stand out!
And, yes! Pam is not fiction but a real beauty!
Speaking of fiction, Pam also loves reading books and watching movies.
Pam's favorite book is Wuthering Heights by Emily Brontë, and her favorite movie is The Virgin Suicides.
Your Sugar Boo
Dua Lipa? No, but one and only Pamela Prinster in this frame!
During her starstruck journey, fans often noticed she looked like the British singer-songwriter known for her song Levitating.
Of course, Pam is more than just her looks; she is also one of the great contenders for acting challenges in StarStruck.
Now that she is just starting her journey, Pamela said she would love to play more Kontrabida roles.
Pamela Bridgerton
Pamela wearing a white dress in the Bridgerton Villa, is giving us a gleaming sophistication!
Her visuals are exquisite that she can make a simple dress look extravagant!
Pamela Prinster is a complete package, and we look forward to what more she can give us as her career progresses.
Beauty with talent and brains? Lord gifted her so much! She got it all!
To get more updates about her, you can follow her Instagram account @pamprinster
We wish you more achievements in your career, Pamela!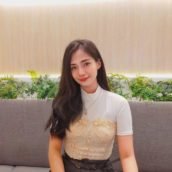 Veronica Louis Gannaban
Nica is a resin artist, watercolor painter, and writer. She loves putting art into life because it feels liberating. She believes that the most powerful form of art is through words, for it can set us free. Her life is sweeter than fiction because of Taylor Swift's music, fur babies, and chick flick movies.