Angela Ken is a singer-songwriter from ABS-CBN whose talent for singing and composing songs was first discovered on TikTok.
She became popularly known for her single "Ako Naman Muna." This song was so well-loved by the online community that it didn't only gain traction on TikTok but on other social media platforms too.
From there, the Star Magic talent agency let her sign a contract with them, where she also became a part of Squad Plus, comprised of new young singers.
With Angela's meaningful compositions and angelic voice, it's no wonder why she is one of the rising music artists today.
Let's get to know her more in these Instagram photos!
Pursuer of Dreams
Angela is holding her eyes with a burning passion for music in this photo.
It is like she was born into the music industry and she has what it takes to be a successful musician.
In an interview with the Manila Bulletin, Angela shared that she started writing compositions when she was just 12 years old.
The musician's heart has been in her ever since she was a child because it is in singing that she can uniquely express herself.
Sings with Ocean's calmness
Angela looks refreshed in her photo from Boracay, where behind her is a picturesque beach.
What more if we could hear her sing with the waves? Imagine how peaceful it would feel.
Her song "Ako Naman Muna," which sets the trending lists on social media and paves the way for her career, was originally incomplete.
Angela shared in an interview with LionHearTV that after releasing the song on TikTok, she was about to let go of it.
She said that she does not know how to complete it anymore, but because thousands of people relate to it, it led her to finally continue the song.
The song is all about self-love. Many people having mental health problems during the quarantines found their comfort in this masterpiece.
It became a way for her to be a voice that, even if it's not a big movement, does still make a difference.
A Musician with Purpose
Angela continues to make music that comes with a good purpose after her first song.
She became a part of the Spotify EQUAL Philippines playlist, a curated playlist that aims to foster equity for women in the music industry.
Angela just recently release a comforting song titled "It's Okay Not to Be Okay".
She got the inspiration for the song from Boy Abunda's trending question, "When is it okay not to be okay and when is it not okay to be okay?" during Binibining Pilipinas 2021.
Daylight Melody Princess
Angela is glowing in this Sunkissed photo while wearing a puff sleeves dress.
This is the outfit she wore in her 2nd performance at Wish FM 107.5 bus.
The rising music artist is the singer behind some Movies and Series' official soundtrack-like, Your Everything in How to Move On 30 days; Sila Pa Rin in Marry, Me Marry You; If We Fall In love for Saying Goodbye and Kontrol in Click Like Share.
Harmony's Muse
Looking so beautiful and dreamy, Angela is a singer-songwriter artist that we should look out for.
She made songs not just to gain popularity but to send people messages of comfort, assurance, love, and hope.
Angela aims to make music that reflects reality, and she is doing a good job of it.
With the pureness of her heart, the warmth of her music, and her ethereal voice, her music is something that we must listen to.
Get to know Angela more by streaming her songs on all music platforms!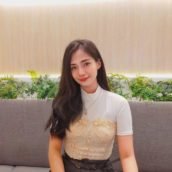 Veronica Louis Gannaban
Nica is a resin artist, watercolor painter, and writer. She loves putting art into life because it feels liberating. She believes that the most powerful form of art is through words, for it can set us free. Her life is sweeter than fiction because of Taylor Swift's music, fur babies, and chick flick movies.