Whenever I see the face of TWICE's Yoo Jeongyeon, I get butterflies. Known as a main vocal and a girl crush of the group, she is undoubtedly a name to remember in the K-pop industry. Now, let me clear this up by saying that I'm a simp for the OT9 members of Twice, and I love them all. It's just that Jeongyeon, in particular, has a special place in my heart as my bias.
She's my bias for a lot of reasons. By the end of this article, your bias might get wrecked, too (1/2 jk).
Yoo Jeongyeon, as a whole, is just an embodiment of all the good things in the world.
She is stunning, gorgeous, kind, and funny (hello, dark showers + open doors). JY existing in this world just makes it right.
As fans, we have always been overprotective of JY. Our Yeongie, despite being the mother figure of the group, also needs a lot of protection. Through the years, she has struggled with a lot. From her neck injury to her anxiety issues, she suffers a lot of ailments.
This makes it hard for her to perform and to be present in all Twice shows. However, because of her fierce determination and love for her fans, she always tries her best. Like a star, she shines for us even on her darkest skies. Her drop-dead gorgeous looks are not the only reason we're so attracted to her.
She exudes such charisma and a beautiful aura. With her smiles and contagious laughter, she's an absolute breeze to be with.
Yoo Jeongyeon's figure is TO DIE FOR too! I know she gets a lot of hate for her pudgy outfits. But honestly, this is the fault of their stylist who doesn't know how to dress a curvy figure like JY. She has curves in all the right places. She is physically healthy. She's sexy, and her body is DAMN FINE.
I just don't get KPOP's obsession with being their idols as skinny=sexy, but it just ain't it.
Besides physical assets, she also has massive talent. God really has favorites. *Cue Bobbie saying, "I'm not saying you're unfair, Ma. I'm saying you have your favorites.
That's okay!! Listen to my Jeongyeon's vocals:
She has a mighty range, and her singing is very stable! They make a lot of complex dance moves, which makes it hard to sing. However, JY does both flawlessly. Hello, her high notes in One in A Million always gives me goosebumps.
Right now, all of Jeongyeon's fans miss her so much.
During their comeback for Kura Kura, she was inactive. But we recently saw more and more of Jeongyeon in Taste of Love and Perfect World! Look at her visuals in Perfect World:
It makes us think that Perfect World will be her era!
We love seeing our Yeongie back on stage and in the limelight. But we understand that her recovery takes time. Moreover, in her few absences, our heart grows fonder!
I believe that in the right conditions and treatment, our JY will be back to her usual, perky self.
Here's to you, Yoo Jeongyeon, and your ethereal beauty that makes us fall in love with you over and over again.
Photo Credits: K-POP Database, Amino Apps, MNet, and KPOP Members Bio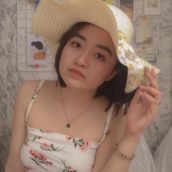 Llana Cabajar
An aspiring adventurist who aims to travel the world someday. Weird and poetic, a great friend for problematic rants and deep talks about life in general. Hit me up on my socials!