VP/Cover: Jayda, Aljon, Markus — Clash and Camaraderie
As a platform that showcases modern literary works of the talented but the unknown, Wattpad reigns as a vessel for aspiring authors to tell stories of today's youth that truly speak to the masses as they mirror the coming-of-age of the brilliant young minds of the current society.
Years ago as the first novel from the site was published traditionally, numerous ones followed in its steps, and then eventually were adapted to the big screen. Teen Clash by iDangs is successful as one of them which was eaten up by young readers who were famished for a meaningful love story in an educational setting.
Now, as it makes its way to become one of the newest series for adolescents and the young at heart, Jayda, Aljon, and Markus who lead the story give us a glimpse of the camaraderie they have built with each other while filming.
VP/Cover: Jayda, Aljon, Markus — Clash and Camaraderie
The camaraderie behind Zoe, Ice, and Jude
Working with Jayda for the first time, Aljon Mendoza who plays Ice in the iWantTFC show, described it as "refreshing," expressing how they immediately clicked. The pair relied on each other.
Jumpstarting his career in the industry with the reality TV series Pinoy Big Brother in 2019, Aljon was part of several movies and TV shows, compared to Jayda who will have her acting debut on Teen Clash. This prompted Aljon to share a few valuable pieces of knowledge he had so far in terms of having to process everything and finding the right motivation. The budding actor appreciated how Jayda trusted him and their amazing teamwork.
On the other hand, as the daughter of notable musicians Jessa Zaragoza and Dingdong Avanzado, Jayda truly has her way through music. And with her expertise in this, Aljon shared how this, in turn, became the edge she had over him, and the singer was eager to teach him what she knew.
"Bilang performer siya and musician, tinuturuan niya ako kung paano maging confident sa paghawak ng instruments at paano dalhin ang attitude ng isang musician dahil kailangan ko yun ipakita sa Teen Clash," Aljon shared.
The former PBB housemate saw this as a good foundation for the professional relationship they have.
Markus Paterson, on the other hand, who plays Jude in the love triangle also described working with Jayda as "a breath of fresh air" as she brought a new attack on acting with her debut. Out of the three of them, Markus has more experience working in the industry with a few movies up his sleeve including Netflix's Dead Kids (2019). He saw Jayda as an actress who has serious talent yet was eager to learn and improve, expressing how he couldn't wait for everyone to see her shine in the film.
In turn, the actress of Zoe, Jayda Avanzado, described how fun and exciting working with the other two leads is, stating that from the time they found out that the three of them were cast, they managed to form "a sense of teamwork and camaraderie" even outside of the set of the series.
"It's a privilege to be able to work with two people who are like-minded in the sense that we all are equally committed and invested in telling this story to the best we can," the singer-actress confidently shared, then mentioned the other talented cast members which she referred to as clashmates which is an ode to the title of the project.
Connecting with their literary counterparts
Truly, the success of the book led to the creation of the teen show, and with the interesting source material, one might wonder if the cast is familiar with the origins of their characters—the ins and outs of what it's like to be the live counterparts of Zoe, Ice, and Jude.
The drive of Ice and Aljon
Aljon shared how her sister had a physical copy of Teen Clash and how he had to sneak in just to open and read it. In relation to his character, he relates to Ice because they are both very goal driven and they never lose focus on their priorities.
"Just like Ice, every opportunity is important to me and lahat ng trabaho ko ginagawa ko for my family."

Aljon Mendoza on how he relates to Ice of Teen Clash
The actor described Ice as suplado and the "cold guy" trope, mentioning how his character has this certain nickname for himself Ice for Sale since all of the services he provides for people always come for a price. This is rooted in the fact that he is the breadwinner of his family.
"He knows what has to be done, he makes sure na lahat ng trabaho niya magagawa niya ng tama."

Aljon describes his character Ice
The story of Jude through Markus
Markus, on the other hand, mentioned that since Jude had very minimal participation compared to this current adaptation, he did his best to learn what he could from the character and gave his own spin on it that was not shown in the source material.
"Considering that I spend a lot of my time writing and composing music, it's actually very relatable to be playing a musician or singer because I can input parts of my own experience into the character of Jude."

Markus Paterson on how he relates to Jude of Teen Clash
Narrating his role in the show, Markus gave a glimpse of Jude, saying that he was formerly in a duo with Zoe, and later on, they became online sensations. He continued by saying that, for reasons to be shown in the series, their duo was disbanded and Jude had to move to the US to pursue his dreams of becoming a famous musician.
The determined Jayda and Zoe
Among the three, with her enthusiasm for the project when it was pitched to her in 2020, Jayda rushed to grab her own copy to see what Teen Clash was all about. She described the piece of work as having the traits that make up a good story, made special by its "wit, youth, and relatable characters" which made her root for them. The singer added that she definitely understood the reason why so many people fell in love with it.
Jayda also detailed how strong her connection is with Zoe, saying she reminds the singer-actress of her younger self in terms of "kapal ng mukha and lakas ng loob."
"She knows what she wants in life and the mindset that she'll do what it takes to reach for her dreams is one that I resonate with a lot. I'd say Zoe in her quiet moments of vulnerability and sometimes pushing herself a little too hard, is something that I relate to as well."

Jayda Avanzado on how she relates to Zoe of Teen Clash
Jayda described Zoe as an "unapologetic, palaban, and a determined young woman who wants the world to hear her voice." She detailed how the character she admired so much wants to make an impact and craves validation. Her talent in music is what she prides herself on the most and she wants people to see her for that and not the past mistakes she has done in the past.
"She's a very strong-willed, and sometimes stubborn, individual, which I think at the end of the day, is human, and that will make people want to root for her."

Jayda, describing her character Zoe
Showcasing talents and working in the industry
Certainly, working in an industry as scary and as exhilarating as show business, momentous experiences birth lessons and valuable moments. While Jayda, Aljon, and Markus have certainly had their fair share of these, the three of them surely still have a long way to go at the earlier stages of their career.
Lessons Aljon has learned in the industry so far
Navigating through the industry as an actor, as this becomes one of the first few Aljon has done, he has learned that it's always a great experience to work with different people. He describes this as a way to test one's skill as he tries to establish his career and get something from collaborating with professionals driven by different perspectives.
"Natutunan ko rin na makakatrabaho ka ng iba't ibang klase ng tao. Iba-ibang proseso, iba-ibang kakayahan at kaalaman kaya dapat open ka. Be teachable. Kumbaga marami ka pang bigas na kakainin and that's totally okay."

Aljon on what he has learned so far working in the industry
Markus and his most memorable role
As for the memorable role he has done so far and how it compares to Jude in Teen Clash, Markus opened up about how he loved playing Chuck Santos in the Filipino Netflix Original Dead Kids. From making the movie up until the premiere, it felt surreal for the actor, considering it the most fun he had playing a character.
"It's really incomparable to my role here in Teen Clash—completely different experiences and completely different stories. Nevertheless, I cannot wait to put my heart into Jude and bring life to this character."

Markus on how the role of Jude compares to the character he considers the most memorable
Showcasing Jayda's beautiful voice
Since Jayda is most notable for her singing skills, a talent she has inherited from two of the Philippines' well-known voices, it is no doubt that people are eager to know if she will sing in the series. And of course, their ears will be blessed from hearing it.
"What I love about this project is that music is an integral part of it. I was also given the opportunity to be involved in the soundtrack of this series and to be able to write music for it. This makes me feel all the more passionate and proud to be a part of Teen Clash! I consider it to be a marriage of two worlds that I've fallen in love with—music and acting."

Jayda on showcasing her talent in Teen Clash
The future of Jayda, Aljon, and Markus
Feeling like he comes fresh off the boat from the Pinoy Big Brother house and now diving into acting, Aljon feels thrilled to have scored amazing projects he has in store, asking fans to expect more acting projects from him. He promised to definitely push himself harder in terms of his craft and craves to experiment with more different genres in the future.
For now, he just hopes for everyone to enjoy Teen Clash as much as he and his clashmates loved making it.
Also looking at the bigger picture with regard to his acting pursuit, Markus confessed how he is not entirely sure what excites him in the future but he just continues to keep getting better at giving life to characters "so graciously given to him." One thing he revealed to his fans was that he just finished his first movie of the year and all he can say is that he really enjoyed it despite it being his first time doing a comedy.
As a dream of his, he also plans on writing scripts and producing. The Dead Kids actor looks at his craft and sees himself loving it for the rest of his life just like how Jayda perceives her love of music as something that will always be constant for her.
The 19-year-old musician has not stopped in terms of this passion, continuing to write and produce music that feels authentically honest to her. As an artist, Jayda feels like she knows herself more than she ever has. With regard to the other venture that she has entered, acting, she teased her fans by saying that everyone "must wait and see what's yet to come, which will all be revealed in time."
Working with Teen Clash, the daughter of two incredibly talented musicians was able to touch on two genres that she loves—musical-oriented projects and Rom Coms. Having her new obsession at the moment, the popular series The Last of Us, she shared that in terms of future projects, she would like to try and do an apocalyptic zombie film or series.
"Portraying strong female characters is something that I feel really connected to and I'd like to continue doing in whatever projects I find myself doing in the future."

Jayda on wanting to do other projects outside of the Romantic Comedy genre
What makes Teen Clash exciting according to the main leads
Teen Clash impresses as one of the most well-known engaging novels to have come out of the famed platform for authors, Wattpad, amassing over a hundred million reads. Aljon detailed how, finally, we will have a chance to meet the characters and enjoy the story through the art of making a series.
On the other hand, Markus proudly declared how in the iWantTFC series, many fresh faces, raw talent, and eager kids are being showcased to the world to witness their talents.
"I know for a fact everyone in this cast has put 110% of their hearts into this and it will show in the final product."

Markus on the promising people who have worked on Teen Clash
Finally, Jayda is ecstatic to detail how Teen Clash shines as a coming-of-age story about "individuality, reaching for your dreams, and love." She also highlights the series has a "funny unexpected way of finding its place in all of that."
"I know I can speak for myself and my castmates when I say, what's interesting about Teen Clash is its, 'No filter and just plain unapologetically honest' approach to storytelling."

Jayda on the edge of Teen Clash over other romcoms
With these three promising talents who excel in different fields and who are in love with their craft which is shown through their art, a sense of camaraderie unites them. Wattpad continues to connect the youth with its undeniable charm and brings stories that do not ignite a clash of principles but form an understanding and unity of minds that share the same goal, and as cheesy as it sounds but is true, reaching one's dreams.
You can watch the most anticipated series of Black Sheep this 2023, Teen Clash. Exclusively on iWantTFC app this March 17, be ready us they rock your world!
Download the iWantTFC App and register for free. You can also visit www.iwanttfc.com to watch your favorite kapamilya shows.
Publisher | Richie de Quina & Gwynn Crisostomo
Editor-in-Chief | John Luke Chica
Senior Editor | Raphael Garcia and Angela Baltan
PR & Advertising Manager |  Josh Austria
Digital Manager | Allen Esteban
Words by Raphael Garcia
Photo Edit | Jose Mendiola

IWANTTFC Team:
Eugenio Lopez IV, Omar Arnold Gepiga, Mark Gile, Joyce Villaflor, Ana Regina Buenviaje, Aimee Sumalde, Vaughn Hautea, Sheilfred Andes, Jesus Bautista, Jessa Canuto, Maye Deles, Reynante Cepeda, Kenn Rivera, Karah Reyes, JK Zapata, Austin Hojilla, Viktor Laraño, Omar Vincentino, Gabriel Faustino, Lawrence Olaño, Flow Apostol, Adam Santos
BLACK SHEEP:
Mico del Rosario, Kookai Labayen, Poli Policarpio, Simon Arciaga, Carl Chavez, Jose Vitug, Miggy Arnonobal, Jed Descutido, Gian Dimaranan, Neil Juliano, Jigs Vinluan, Keia Aemielle, Patricia Jane Muzones, Mabel Caladiao, Jacque Reyes, Kharen Detablan
PHOTOG TEAM:
Xander Angeles, Des Odono, Louise Torio, Robb Felipe, Gerald Gurpido, Rovic Felipe, and RJ Felipe
GLAM TEAM
Maui Segismar, Carvey Samonte, Aurelio Salud, Trisha Sikat Garcia, Shiela Villegas, Raphie Magbag and Christian Naparan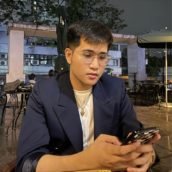 Raphael Garcia
Raphael is a person born between the generations of Millenial and Gen Z. He was produced by Cavite State University (Main Campus) with a bachelor's degree in Political Science. The lad has a fresh take on things, but can still stay true to his roots. He writes anything in Pop Culture as long as it suits his taste (if it doesn't, it's for work). He loves to wander around the cosmos and comes back with a story to publish.