If you happened to know Song Kang because of Nevertheless, I'm telling you that he is more than just a walking red flag. Dubbed as the Son of Netflix, Song Kang already played various characters. All of his dramas are streaming on Netflix. He starred in Netflix's first-ever original K-Drama Love Alarm. On that drama for sure, he rang the heart of the viewers. Then, he received a lot of projects. In this year, he already had three dramas. Your boy is booked and busy even until next year. Thanks to Titanic, we have Song Kang in the acting industry.
Starring Song Kang, here are K-dramas you should watch:
1. Love Alarm Season 1 and Season 2
His first drama on Netflix, Love Alarm is based on Chon Kye Young's popular webtoon and is set in a fictitious universe where a smartphone app alerts you whenever someone within a 10-meter radius seems truly in love with you.
2. Sweet Home
This is a 10-episode VFX-heavy drama. Song Kang played the role of an introverted high school student Cha Hyun Su. After losing his family, he moves into a new apartment called Green Home. He then encounters odd and unexpected situations while fighting for survival in a rapidly changing society on the point of collapsing. This is a highly recommended K-Drama. From the overall production, visual effects, and the cast, you will notice that it's a high-budget series.
3. Navillera
You can watch Song Kang here differently. This tear-jerking series showcases the real meaning of "follow your dreams." It's very heartwarming and for sure many can relate to it. The webtoon "Navillera" is a character-building story about a 70-year-old man, Shim Duk Chol (Park In Hwan), who wishes to study ballet, and a 23-year-old guy, Lee Chae Rok (Song Kang). Shim Duk Chol always needs to pursue ballet since he was a youngster but has never had the opportunity.
4. Nevertheless
If you are marupok, you can relate to this series. To all the red flags you ignored. This drama depicts a romance between a man who is tired of partnerships but enjoys flirting and a person who wants to date but does not believe in love.
Since all of his dramas are unique, you will surely love all of them. I just want to thank Titanic, we have Song Kang in the acting industry.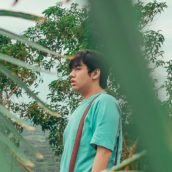 Ivan Royce Pedron
Ivan Royce is a journalism student from Cavite State University. Aside from being a writer, he is also a video content creator, photographer, and graphic designer. He likes to drink…. Coffee, tea, or maybe alcohol. Ask him for recommendations!