Over the past few days, we have received constant reminders from NDDMRC about the flash floods that may cause urgent evacuations. Our government can and other people can only do so much. We have to make it a point to prepare for natural disasters and emergencies. Because of one obvious reason: We'll never know when they are going to happen.
Prepare for storms and other emergencies
During these times, especially in the typhoon-prone Philippines, a storm survival kit may be your determining factor between life and death. Putting together a 'Go Bag' isn't really that difficult. Remember, the key is to know which items you'll be needing to get by, and to make sure that these will last long enough before help arrives.
We, at Village Pipol, are encouraging every family to prepare their own 'Go Bag' or survival kit. Note that we have varying needs as individuals so these are merely suggestions. Feel free to add what you may deem necessary.
But for us, these are the basics:
Bottled water
People can survive without food, but not without water. With that, you should stock enough clean drinking water to last you and your family for at least 3 days.
Food
Given that you cannot go outside to buy food or order from fast-food chains, you must have at least sufficient stock. Look for food items that can be eaten with minimal preparation or without having to cook them like instant noodles, crackers, and energy bars.
First aid kit
At the very list, your first aid kit should have the following: Band-Aids, alcohol, antibiotics, antacids, anti-allergy meds, mosquito repellent, sunscreen, and other prescription drugs that you may need.
A Swiss Army knife
This can be a useful tool for anyone who's not in the comfort of his/her home. It's all-in-one so you don't have to bring a separate knife, can opener, bottle opener, screwdriver, and a pair of scissors.
Clothes
Getting wet in the rain will require you to change your clothes or else you'll get sick. Make it a point to bring at least three pairs of clothes and some underwear. You must choose something warm and comfortable.
Flashlight and batteries
This will help you get around during the night, especially since there's a blackout. Try bringing candles and waterproof matches too, just in case you run out of batteries.
Toiletries
Aside from the usual soap, toothpaste, and tissue paper, bring a lot of sanitary napkins and diapers. The latter two are necessary for women and babies.
Large garbage bags
It does not look useful but these bags can cover your items for safekeeping against drench. Just also get extra ones for trash and for emergency situations.
Fully-charged mobile phone
It's a pretty handy tool in asking for help from the media and the authorities, although network problems are expected during typhoons. Also, you must invest in sturdy power banks just to be sure.
Battery-powered radio
Listening to the news will give you updates about the rescue operations, and will help you find safe ground. Make sure that you bring a lot of batteries.
Cash and necessary documents
You'll never know when you'll get access to a commercial establishment or ATM, so it's best to keep emergency money with you. You should also pack your important documents and I.D. in case you have to leave the vicinity.
What are the other things you can suggest?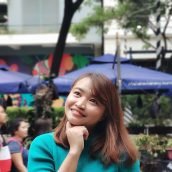 Queenie Lastra
Queenie Lasta got her bachelor's degree in Communications Research from UP Diliman. In her free time, she likes to read thriller novels, psychology books, and mangas. She believes in the importance of grit, hard work, and passion to become a great writer in the future.