Founding member of the rap group Agaron remains at the forefront of pushing Waray music into the mainstream just dropped another "Waray" single entitled Obra. Archie Malate a.k.a. FRNCHZ, a rap artist, songwriter, and record producer from Tacloban City says this,
"Music knows no language. It breaks barriers and crosses borders. You don't even need to know the lyrics of a song to like it, as long as it hits you, then definitely it is going to your playlist."
New single Obra talks about a girl that looks like a work of art
The Waray single entitled Obra is a rap/pop joint. It also talks about a girl so beautiful that she looks like a work of art. The catchy melody and nostalgic vibe resemble some of the popular hip-hop and R&B hits from the mid to the late 2000s.
Instead of having his peers on the track, he collaborated with Tom Rodriguez, one of the country's most sought-after actor, singer, and multi-talented artist. 
Tom remains a proud Waray that was born and raised in Catbalogan, Samar. Then, he moved to the United States as a teenager. They also featured an up-and-coming artist and producer from Palo, Leyte Amiel Edward. Also known as YLMRN, he produced the music and wrote the hook. FRNCHZ described him as "The Next Big Thing that'll come out of Region 8" due to his unlimited potential and unwavering dedication and commitment to his craft.  
Bisan pa man hain ka it kahigugmaon ko gad haim nagpapanobra

Ngan bisan la maasi'k han usa nga babaye nga baga-baga'n ada't obra

Kay tak pagkita haim kakaiba, ha akon huna-huna di ka gud nawawara

Sige tim dalagan dai, didi tak paraiso kay ikaw gud la it bida!
Tom also mentioned that this became the first time he wrote a song that will be released commercially. Aside from that, he also felt excited for everyone to hear it.
"It is always a proud moment whenever I hear a Waray song getting played on the radio that's the reason why I never hesitated to do this project."
They recorded Obra at the Mango Room Studio and released it under the independent label 65INFINITY. It is now available on all digital platforms like Spotify, iTunes, Apple Music, and YouTube to name a few. 
A music video already in the works.
You can follow FRNCHZ, Tom Rodriguez & Amiel Edward in their respective social media accounts, and be sure to check out their other stuff.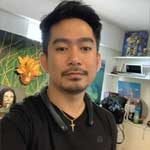 Josh Austria
Aside from being a businessman, Josh Austria has been working in PR and media industry for more more than a decade. From his years of experience as the Marketing and Advertising Head of Village Pipol Magazine, he has built strong relationships with creative people, brands, and organizations.