Beauty titlist Roxanne or Roxie Baeyens made history as the winner of Miss Earth PH's first online competition. She also bagged two awards during the pageant: Darling of the Press and the Eco-Video award. There's no doubt that this gorgeous queen got a winning personality so let's find out more about her in this exclusive interview.
Journey to the Miss Earth Philippines' crown
Prior to joining the prestigious Miss Earth competition, Roxie already had won in various local and international beauty pageants. She was Miss LTSO 2017, Miss Silka Baguio 2018, Face of Tourism Philippines 2019, and a lot more. Growing up as a daughter of an environmentalist, she always admires the cause and the advocacy of Miss Earth. Her mom had a big effect on her as she has been a very good example.  Apparently, that example pushes her to be her mom's legacy and continue what she does for mother Earth. She shares her beautiful experience in joining the pageant:
Since this is the first time that the organization held the event online, can you please share with us your actual experience in joining this pageant?
I had to learn to not be afraid of trying new things and challenges. It's my first time competing for a virtual pageant this year but I learned to embrace it and do the best I could with the resources available. I constantly remind myself that I could bloom beautifully where I am planted for as long as I believe in myself.
In your own opinion, how can Filipinos be more eco-friendly?
To thinks 10 years ahead. That the threat towards our environment is getting more detrimental and we don't have much time left to save the future generation. I hope we start even in the little ways by always making sustainable choices like saying no to single-use plastics and start urban planting for reforestation.
What are the changes when you won the said prestigious pageant?
It paved the way to a more inclusive reach. I have now gained a voice and a bigger platform where I could inspire more people.
Roxie Baeyens on positivity and taking care of herself
Can you describe yourself?
I'm a very optimistic person with a bubbly personality. I always try to look for the good at everything. I am also very talkative and outgoing. My ambition is to be genuinely happy, pursue a work I am passionate about, make life better for my family. I love chess, dancing, acting, pageantry, modeling, spending time at the beach, reading books, binge-watching on Netflix, spending time with my pets, stray feeding.
What are the must-haves in your skincare kit?
I stick to the principle of 'the less you put, the better. Also, I give my skin ample time to breathe and stay healthy by using beauty products at a minimum. I go for cruelty-free and plant-based skincare products and do not let any day pass without eating fruits and vegetables. As an actress and commercial model, having healthy skin is important in my line of work, but my greatest beauty secret is to always carry a smile. I believe that having a good sense of humor and a vibrant approach will add to the totality of a person's natural beauty.
How do you practice self-care?
By constantly reminding myself that I am enough and knowing the Lord above unconditionally loves me the way I am. Plus, self-care for me is also caring for others. That kind of fulfillment in the heart is compared to no other.
Roxie Baeyens is indeed a woman wise beyond her years! Hopefully, her good example will lead other women to take care of themselves and the environment.
Publisher |  Richie de Quina & Gwynn Crisostomo
Editor-in-Chief |  Angela Baltan
PR & Advertising Manager |  Josh Austria
Digital Manager |  Allen Esteban
Produced by Josh Austria
Words by Queenie Lastra
Photography by Jai Murcillo
Stylist |  Kitkat Melo
Hair by Daniel Forro
Makeup by | Richard Daroy Traje
Desinger Reynold Tenerife, Candy Segovia, and Jeffrey Tope
Studio | VP Studio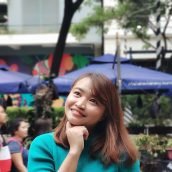 Queenie Lastra
Queenie Lasta got her bachelor's degree in Communications Research from UP Diliman. In her free time, she likes to read thriller novels, psychology books, and mangas. She believes in the importance of grit, hard work, and passion to become a great writer in the future.