In recent national elections, we have already seen Philippines boxing legend Manny Pacquiao run. Sooner, we might see him running again! This time, though, not in a political context, but through the South Korean variety show, Running Man.
Based on an article released by the international news portal Koreaboo, Pacquiao is set to make an appearance as a guest in the program. They cited an exclusive report from News1 as the source of information in a writeup published on their site on October 6.
"Filipino boxing legend and former senator of the Philippines, Manny Pacquiao, will be guesting on SBS Running Man," wrote Koreaboo.
Moreover, the platform detailed that the guesting is part of Pacquiao's promotional tour in the country that originates the global phenomenon Hallyu wave. Reportedly, the eight-division world boxing champion will arrive in South Korea this October 10. Pacquiao will participate in various promotional activities during his stay there, one being the Running Man.
With a broadcast period of more than a decade now, Running Man is an internationally acclaimed and multi-awarded show. It airs on the SBS network starring Yoo Jae-suk, Haha, Jee Seok-jin, Kim Jong-kook, Song Ji-hyo, Jeon So-min, and Yang Se-chan. The cast partakes in a sequence of fun games and challenges in exchange for winning the prizes.
Consequently, GMA Network not long ago made the first-ever domestic adaptation of the program. In September, Running Man Philippines pioneered its pilot episode with a localized version of certain references and sensibilities. The series fronts the runners Glaiza de Castro, Mikael Daez, Ruru Madrid, Buboy, Kokoy de Santos, Lexi Gonzales, and Angel Guardian.
Filipino and foreign supporters of Pacquiao, along with the Running Man fans, are anticipating the outcome of his appearance. We wish you a stroke of good luck, ex-sen Manny!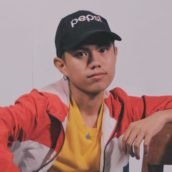 Renzneil Robles
Renzo is an introvert who prefers to do things at his own pace. Unlike most writers, he reads lazily. Watching Korean dramas at night is his constant source of comfort. Although oftentimes commended for being outspoken, he speaks better through writing than with his words.