Little Mix's Leigh-Anne just announced her pregnancy, albums hit 1-billion on Spotify!
Leigh-Anne Pinnock | Instagram (@leighannepinnock)
Leigh-Anne just announced her pregnancy and her group—Little Mix—is the first-ever girl group to have three albums hit 1 Billion streams on Spotify! What a great day for Mixers!
The world was devastated when Jesy Nelson left "The Best Girl Group", as they are dubbed, last year in December. She was very important to the beautiful harmony of the group. I actually thought they were perfect for each other—a match made in heaven. It was undeniable that they are the most tight-knit group there is. Also, what iconic songs they have and what legends they are?
Their friendship was very organic and it was evident that they loved each other. That's why everyone was shocked that there had been an ongoing problem with Jesy—but of course, not against the girls but the internet trolls and distasteful media.
Jesy gave that deep, sultry texture in their harmonies. However, she stated that being in a girl group for almost a decade took a toll on her mental health. Thus, she decided to leave Little Mix and pursue music on her own.
Her former band members were very supportive of her, as well as the Mixers (but as a Mixer myself, it almost killed me). Now, she's been pursuing her solo music and we couldn't be happier for her. As long as she's happy, we are.
Months have passed, while fans are still healing from the departure of Jesy, Leigh-Anne announced her pregnancy via her Instagram page. Little Mix is growing by one!
She wrote,
We've dreamed about this moment for so long and we can't believe the dream is finally coming true … we can't wait to meet you.
View this post on Instagram
This was along with photos of her glowing in green and fiancé Andre Gray, a footballer (soccer player in the President's English) for Watford FC. The singer and athlete (both 29 years of age) got engaged last June after dating for four years.
Her bandmates filled the comments with very lovely comments. Jade Thirlwall wrote, "Love you so much. Look at this family." Meanwhile, Perrie Edwards commented "I can't stop staring at these pictures. You're a vision. Ily both so much! CONGRATULATIONS my beautiful sister!"
Personally, I am very happy to have found out about this because of how Leigh-Anne really wanted to settle down with Andre. In interviews, she and her members have constantly talked about how she wanted a family already. I couldn't be happier for her.
Little Mix just dropped their first music video, Confetti featuring Saweetie, without former member Jesy Nelson, of course. Leigh is making her film debut this Christmas in Boxing Day. She also stars in a new BBC documentary titled Leigh-Anne: Race, Pop & Power.
Actually, it has been speculated by fans that all three of the girls wore baggy clothes in the Confetti music video in order to hide Leigh-Anne's tummy. Isn't that sweet?! I still love the friendship they have in the group. I'm pretty sure Jesy is happy for their Leigh too.
Also, it has been reported the Little Mix is the first girl group in history to have three albums with at least 1 billion streams each on Spotify. Another milestone achieved by "the best girl group"! Their achievements just keep going. Jade shared this on her Instagram story with the screenshot of the tweet of MTV UK and a gif of Kim Kardashian screaming and crying.
Congratulations girls and Leigh! You three and Leigh's baby deserve the world! We couldn't be more proud of all your successes! As you should!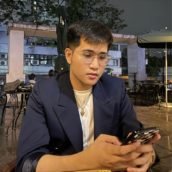 Raphael Garcia
Raphael is a person born between the generations of Millenial and Gen Z. He was produced by Cavite State University (Main Campus) with a bachelor's degree in Political Science. The lad has a fresh take on things, but can still stay true to his roots. He writes anything in Pop Culture as long as it suits his taste (if it doesn't, it's for work). He loves to wander around the cosmos and comes back with a story to publish.