Novice has a double cover edition that features more than a hundred Filipino creatives. Of course, this includes poets, writers, graphic artists, photographers, and illustrators on its 320+ full-colored pages. Xyza Cruz Bacani headlines the issue. She is a Filipina street and documentary photographer from Nueva Vizcaya. She is included in BBC's 100 Women of the World in 2015, Artpil's 30 Under 30 Women Photographers 2016, and Forbes' 30 Under 30 Asia 2016. Aside from that, she also wrote a book titled We Are Like Air.
Novice features Filipina photographer Xyza Cruz Bacani, 100+ local creatives
Aside from Xyza Cruz Bacani, Novice also shares the creative journeys in their third issue. Of course, this includes Justin Besana, the Design Kid who made countless film posters here and abroad. Aside from him, it also included Venazir Martinez, a visual anthropreneur, a street muralist, and the creative behind Hila-bana, a series of public art found in Baguio City. Kim Chua Tendido remains one of the most locally in-demand macramé artists. Novice also featured Abigail Hong, an architect, and analog collage artist. It also included Red Gumaygay, a rising singer-songwriter from Bayombong. Novice also featured Brian Avecialla, the winner of Issue 03's cover art and design contest.
Novice also features local clothing brands in the issue. This includes EPISODES, rookies in the streetwear scene Soft and The Old.
Novice's third edition definitely remains a jam-packed issue! Of course, they feel excited to bring this on print. They have a discounted price of Php 560 until May 31, 2021. They aim to reach 1-thousand pre-ordered copies. To preorder, people can visit their website or go to this link. Parts of the proceeds of every Novice issue remain allotted for future outreach programs of The Volume Project.
As a passion-driven project, Novice aims at promoting the spirit of creativity and strengthening the country's artistic community as a platform that celebrates young and aspiring creatives where we showcase their talents as they make their marks in both local and international scenes.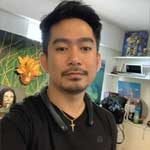 Josh Austria
Aside from being a businessman, Josh Austria has been working in PR and media industry for more more than a decade. From his years of experience as the Marketing and Advertising Head of Village Pipol Magazine, he has built strong relationships with creative people, brands, and organizations.