ON POINT: Lexi Gonzales on her way to mastering her craft
After her stint in the seventh season of the talent search 'Starstruck' as the First Princess, Lexi Gonzales is continuing to strive for her dreams while adjusting to the new normal. Not only an actress and a model, Lexi is a graceful young lady who's blooming into womanhood in times of adversity.
On her way to mastering her craft
From an ex-Star Magic talent, Lexi had a hard time immersing herself in a new environment. But it slowly, her adjustments became much easier because of her close ties with her Starstruck family. And until now, she's comfortable working with them as an official Kapuso artist.
"They are fun to be around. Plus they are comfortable to work with. No matter what their job is, camera men, staff, producers, bosses, my managers, it's like everyone in GMA is so nice and easy to work with. "
Playing minor and supporting roles can be disheartening for some, but Lexi does not mind. This is because of the fact that her mentors were able to instill discipline and hard work in her mind. She knows she needed these qualities for her to be a good actor and a good co-worker. In addition to that, she learned through experience to accept criticisms, constructively. Always be in on time and being considerate are also key.
Lexi is doing everything she can to grow as an artist. She develops body health, skills, and emotional well-being as well. Right now, she's busy in acting workshops and plans to take dance workshops with a prestigious dance group soon.
As fruits of her efforts, she landed the role of "Bebe" on Tapsikret in All Out Sundays. She is having fun with the character while learning from her c0-stars in the set. So far, everything's going well for her that she feels working with GMA is like working with a warm family. For that, she's truly grateful to the GMA Artist Center for taking care of her career.
Inspiring young minds to speak up and dream
Behind the limelight, Lexi Gonzales is an introvert couch potato who likes watching BTS, especially Kim Tae Hyung. She loves the romance and horror genre. On a normal, slow day, Lexi browses on her cellphone, eat, do a live stream, and sleep a lot.
But she makes sure that in between, she drinks a lot of fluids, take her vitamins, and moisturize her skin. If she has spare time, she expresses her ideas by drawing and writing. This pandemic also taught her to be more prudent on her finances.
"I learned proper budgeting this pandemic. In fact, I had to stop myself from buying unnecessary stuff. I also refrained from going out, which in return, made my skin healthier."
As a woman of her generation, Lexi aims to inspire her fellow ladies and spread awareness about autism. She wants to tell them to never be afraid to speak up and reach their ambitions.
"I also want to encourage them to have a positive outlook in life and remind them that they are enough regardless of their status and chosen career in life."
Aside from that, she shares some helpful tips for those young ladies who want to be an actress someday.
"Just be confident and trust in your skills. There will be a lot of times that people will bring you down and you will doubt yourself but never let that be a hindrance for you to achieve your dream. Take care of yourself, never let your guard down, and know your rights."
Lexi Gonzales is a brave, ambitious, and modern woman. She is someone who can tackle down any obstacles in a standout outfit and a sharp mind.
Photographer | Roj Miguel

Videographer | Pogs Francisco

Styling and Creative Direction | Janno Novenario

Makeup Artist | Dave Quiambao

Hairstylist | Alexander Rol

Special Thanks To Christelle Mamaril, Tyrone Escalante, Chester Singian, and GMA Artist Center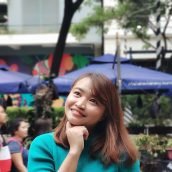 Queenie Lastra
Queenie Lasta got her bachelor's degree in Communications Research from UP Diliman. In her free time, she likes to read thriller novels, psychology books, and mangas. She believes in the importance of grit, hard work, and passion to become a great writer in the future.