You might have to blink and look closer again because it's not BTS V, but a lad named Kotaro Shimizu you saw at a glance!
On July 30, Jean Garcia broke the internet with her attendance at GMA's first-ever Thanksgiving Gala held at Shangri-La The Fort, Manila. Aside from her likened appearance to Red Velvet's Irene, his fine-looking escort also caught the eyes of many.
In the spotlight, several netizens pointed out how Jean's company looks closely like Kim Taehyung of K-Pop septet BTS. But as it turned out, the man was apparently the actress' son!
Raiding its Instagram, let us get to know more of this newfound heartthrob, Kotaro Shimizu:
From his viral breakthrough
Kotaro's viral presence is motivated by his resemblance to BTS' lead dancer and visual, Taehyung. From his stance to his curly hairs and the getup― it emits that distinct K-Pop superstar energy. Designer Avel Bacudio and stylist Jay Angeles are the ones behind this look.
He is an eye candy
His clothes are one thing, but Kotaro's natural dashing look is everything. If you ever wonder what made him this handsome, it's because of his bloodline! According to GMA News, Kotaro is Jean Garcia's child from a Japanese advertising executive she met back in Japan.
A man of his own charm
Set aside comparison, Kotaro is admirable in his own way. Not to mention his keen fashion sense; he is overflowing with charisma. Need we say more about his unique features, including that sexy jaw and captivating eyes? As youthful as he seems, Kotaro only turned 20 last April.
Look at his proportions
View this post on Instagram

A post shared by K (@_kotaroshimizu)

See Also



This will sound so much of a simp, but doesn't Kotaro's figure screams manliness? Well, his love for sports should explain that. From what we've learned, Kotaro loved playing basketball as a child. In fact, he idolizes Kobe Bryant and once dreamt of watching NBA live.
Kotaro is gifted with star quality
Indeed, entering the world of showbiz will not be a challenge for Kotaro. Even before he went viral, he had already established a reputation on TikTok among thousands of followers. To add that he is a celebrity child, an actor or a local idol will best suit his image.
Whichever path you take, we wish you the best of luck, Kotaro!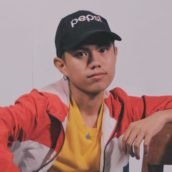 Renzneil Robles
Renzo is an introvert who prefers to do things at his own pace. Unlike most writers, he reads lazily. Watching Korean dramas at night is his constant source of comfort. Although oftentimes commended for being outspoken, he speaks better through writing than with his words.