Good Kids$ are back with a mini album titled "Sunny Side Tapes"
Rapper/lyricist Gaby Singson and producer Bernie Margulies first came together to make music through a common friend. They have been taking their music around various schools in Metro Manila before the pandemic started. With the help of mustard music (sub-label of Universal Records PH), they are ready to bring some groove and funk to the table!
Funky music with a sense of nostalgia and good feelings
It seems that Gaby takes inspiration from artists like J.cole, Goldlink, Mac Miller, and Jaden Smith, while the inspiration behind Bernie's production is the likes of Tom Misch, Nujabes, Masego, and Leven Kali. This talented duo first released their song two years ago and it has been played over 500,000 times.
This time, their Sunny Side Tapes EP contains another series of smooth and relatable songs. They made the name of this mini-album Sunny Side Tapes because they both wanted to create something with good vibes.
"We thought sunny side tapes really had the feeling of nostalgia, with the sun shining and all the good things you'd need during this pandemic. We really wanted to make something that could brighten people's days especially during these times."
The concept of this mini-album centers on this duo's exploration into Funk music. They like to share the upbeat and funky sounds that they also love. It highlights ideas like enjoying life, being yourself, and doing what you want. The latest previous EP they made has a more serious appeal. It gives off an RnB vibe about heartbreak and romance. Meanwhile, this Sunny Side Tapes EP is about having fun and spreading some positivity.
The Good Kid$ mentioned that they have been working to improve their craft during this pandemic. Because of that, they are both excited to release more music that everyone can enjoy and relax.
Great job guys!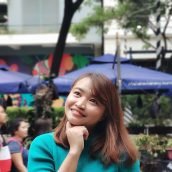 Queenie Lastra
Queenie Lasta got her bachelor's degree in Communications Research from UP Diliman. In her free time, she likes to read thriller novels, psychology books, and mangas. She believes in the importance of grit, hard work, and passion to become a great writer in the future.