(@kimcamjones)
During the height of  Super Typhoon Ulysses, there were some celebrities who help in every way they can. You have Angel Locsin who has been helping through participating in donation drives. Donnalyn Bartolome, on the other hand, donated rescue boats amidst the tragedy.
Kim Jones auctioned her clothes for the Typhoon Yolanda victims
People also noticed celebrity couple Jericho Rosales and Kim Jones since they were resourceful in rescuing flood victims in a subdivision in Marikina.
Armed with their surfboards, the couple waded through flooded streets hoping to help residents trapped in their homes because of Typhoon Ulysses. Several netizens couldn't help but admire their courage and goodwill to help out those who are in need.
One netizen even shared another gesture of kindness by Kim Jones way back in 2013. It was that year when Typhoon Yolanda devastated the country. This typhoon is still the strongest tropical cyclone to have made landfall in Philippine history.
Pau Mojica found out that Kim Jones organized an auction during that time. She said, "I have been fangirling over her since college because of her lovely voice, wit, and looks. I constantly visited and still visit her website just to read her blogs. When the super Typhoon Yolanda hit the country in 2013, she announced on her Facebook page that she'd auction her clothes and #missjones outfits on eBay. ph to be donated to relief efforts. I was screaming because her pieces were all pretty. I wanted them all."
Pau told the source that Kim even added a letter of gratitude for Pau, along with the red skirt. She added,
"My heart leaped when I learned that I had won the Forever21 red leatherette skirt for P550. For sure those lucky ladies who got the rest of the items felt the same. She was so sweet and such an accommodating seller. It thrilled me, even more, when she sent the item because it came with a handwritten letter. Her penmanship is also as beautiful as her heart. She wrote that she wore the skirt once to Valentine's Day dinner with actor Jericho Rosales, who's now her husband. Kinilig ako!"
Indeed, Kim Jones-Rosales is not only a pretty face and a model. She is a woman with a beautiful heart, who goes beyond just to help her fellows.
Do you guys agree?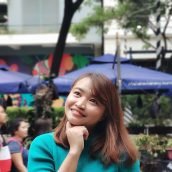 Queenie Lastra
Queenie Lasta got her bachelor's degree in Communications Research from UP Diliman. In her free time, she likes to read thriller novels, psychology books, and mangas. She believes in the importance of grit, hard work, and passion to become a great writer in the future.