After Leigh-Anne revealed that she is pregnant, another Little Mix superstar announced that she has one in the oven too! And it is Perrie!
The Little Mix member announced Monday that she is pregnant. This is her first baby with Alex Oxlade-Chamberlain, a professional soccer player. Both of them are 27 years old. Perrie shared the news by posting a pair of black-and-white maternity photos on Instagram that showcased her baby bump alongside Oxlade-Chamberlain.
Perrie  Edwards first became romantically linked with Alex Oxlade-Chamberlain in November 2016. According to Cosmopolitan U.K., it was one year after ex Zayn Malik called off their two-year engagement. Perrie and Alex's relationship was made public on Instagram in February 2017 when she posted a photo kissing him in front of the Eiffel Tower, captioning it simply, "Him."
The Instagram post was captioned,
So happy to be on this wild journey with my soulmate. Me + Him = You 🌎♥️ We can't wait to meet you baby Ox!"
Oxlade-Chamberlain also shared the exciting news over on his Instagram page writing,
Anyone got any advice on how to change nappies? 😅 so grateful and excited to become a dad ❤️ bring on the sleepless nights 🤪.
This announcement comes almost one week after her fellow Little Mix member, Leigh-Anne Pinnock, revealed that she's also pregnant. Both Perrie and Leigh are expecting their first child. The latter is with fiancé Andre Gray.
On Monday morning, Leigh-Anne commented on her sister Perrie's post saying,
Arghhhhhhhh so so so happy for you both! And so bloody happy we get to go on this journey together! Love you so much ❤️❤️❤️❤️❤️❤️❤️.
Leigh-Anne, 29, posted images from a maternity photoshoot, including some of her soccer star fiancé with one hand on Pinnock's stomach and the other on her shoulder. Leight captioned the post,
We've dreamed about this moment for so long and we can't believe the dream is finally coming true. We can't wait to meet you. ❤️😍
The good news for Little Mix this year has been continuous. We can't be happier for our girls. They deserve all the success in the world. They are the world's best girl group after all.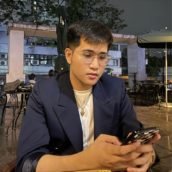 Raphael Garcia
Raphael is a person born between the generations of Millenial and Gen Z. He was produced by Cavite State University (Main Campus) with a bachelor's degree in Political Science. The lad has a fresh take on things, but can still stay true to his roots. He writes anything in Pop Culture as long as it suits his taste (if it doesn't, it's for work). He loves to wander around the cosmos and comes back with a story to publish.