Adobe Firefly is here to dominate the AI-generated world of art
Screengrab from the Adobe website
Firefly, an AI generator by Adobe, releases its beta version, empowering tools like Photoshop with the power of, of course, the latest trend nowadays, artificial intelligence.
It can help users with a lot of things including generating videos, audio, images, brushes, and more using text prompts. Hence, this AI indeed helps content creators edit their stuff. 
In addition, some say the most exciting about the app, Adobe Firefly lets users add a Do Not Train tag to their projects. This prevents the company from using its art to train models. 
The webpage of Adobe Firefly showcases how it optimizes the capabilities of the beta version. The first one shows its content-aware image generation. Also, there is a demo GIF where a user selects a lighthouse in an image. Subsequently, the user uses AI to replace that building with similar-looking ones.
The user scrolls down and selects the empty space under the image. Consequently, he types a text prompt so that the AI can generate an underwater city beneath. 
You must search for or create other images of a lighthouse and an underwater city. Hence, doing this the conventional way takes hours.
Then, you must adjust color grading and manipulate layers. This helps ensure the new objects seem like natural parts of the image. On the other hand, Adobe Firefly does all that in seconds!
Firefly makes it faster and more convenient to create vectors and brushes from images. Highlight a logo with AI to turn it into a brush. With this, you can easily stamp it on Photoshop pictures.
In addition, the new AI works on videos. This can help you change the mood, atmosphere, and weather in a clip.  To give context, a demo showed Adobe Firefly turning a summer photo into a winter landscape with realistic snowfall.
Online marketers are also in the mind of Adobe's artificial intelligence, making their life easier. Its demo GIF showed a user replacing a model for an ad by dragging another into the image.
For a long time now, due to AI image generators, artists have been worrying about AI copyright. Fortunately, it seems Adobe Firefly provides a solution with the Do Not Train tag. 
Add it to a project's Content Credentials to ensure Adobe does not use it to train its AI model. Soon, the company plans to apply the tool to 3D compositions.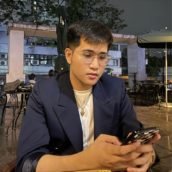 Raphael Garcia
Raphael is a person born between the generations of Millenial and Gen Z. He was produced by Cavite State University (Main Campus) with a bachelor's degree in Political Science. The lad has a fresh take on things, but can still stay true to his roots. He writes anything in Pop Culture as long as it suits his taste (if it doesn't, it's for work). He loves to wander around the cosmos and comes back with a story to publish.