You can now use virtual backgrounds from the movie Parasite in your video calls
South Korean film Parasite directed by Bong Joon Ho is one of the highest-grossing films shown last year. This movie was also the first to bag international and prestigious awards, including the Best Picture at the 92nd Acadamy Awards. You may have watched it too many times by now. Perhaps you even created yourself a 'ramdon', an iconic dish prepared in one scene.
However, check out Parasite's official Twitter page in Japan if you just can't get enough of this thriller. Why? This page just released virtual backgrounds that you can use when you are video calling someone!
Spice up your video calls with virtual backgrounds from the Parasite film
The virtual backgrounds posted features some of the recognizable scenes from the movie. It includes shots inside and outside of the Parks' architectural gem of a house, showing the comforts and extravagance of the well-off characters.
But then, they added the tiny and grungy basement home of the Kim family. These backgrounds serve as a way to appreciate the movie's impeccable set design and cinematography.  But that's not only the reason. They are also a solemn reminder of Bong Joon Ho's message to viewers about poverty and privilege. Sometimes we fail to see the lines between them and that's relevant today considering what's happening in our politics and economy.
You can use the virtual backgrounds to level up your video call at your next online beer session with friends or even as desktop and mobile wallpapers. Use these backgrounds as you please, but don't forget about the harsh realities lurking in the basement. To download the high-resolution versions of these virtual backgrounds, visit Parasite Japan's official Twitter account. Note that these images are only for personal use.
Movie fan or not, this is a great and cool way of enjoying your calls with your friends and loved ones. How about you? What are your thoughts on these virtual backgrounds?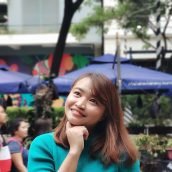 Queenie Lastra
Queenie Lasta got her bachelor's degree in Communications Research from UP Diliman. In her free time, she likes to read thriller novels, psychology books, and mangas. She believes in the importance of grit, hard work, and passion to become a great writer in the future.