It's time to Unwind: 6 things you can do to break the routine and de-stress:
It's been more than a year since the pandemic started. Everything was affected, especially music concerts. How long has it been since you've listened to music gigs after a tiresome day at work, have some laughs with your buddies, and just enjoyed the night away? Some of you may feel that your lives suddenly became routinary. We say it's time to Unwind!
It's time to Unwind: 6 things you can do to break the routine and de-stress:
1. Jam with us at the Unwind Digital Concert with Lila Blanca and NOX

Lila Blanca has been in the alternative music scene since 1997. If you haven't heard of their songs from their first album, The Collie Flower, go and check out right now! Now, the band is back with their new upcoming single, "Paikot-ikot." This song will teach us that life will throw you the most significant challenges, but you should trust and let nature run its course because eventually, it will get better.
The song "Paikot-ikot" is produced and recorded with audio partner Mix Machine Audio and Music Production. You can also show your support by purchasing their band merchandise from shirts, masks, and hoodies! Check out the band's upcoming projects at Lila Project!
Join us at the Unwind Digital Concert hosted by Don C on August 21, 7 to 10 PM. You will also get a chance to win fantastic prizes! If you miss going to gigs, this one gives you those "feels" back. The concert is free, and you can watch it on Lila Blanca's Official Facebook Page. Visit the event's official page and RSVP here.
Here's another reason for you to watch the show: A new band will also be unearthed!
Just by the looks of it, NOX is not your typical band. They will be serving us some sultry electronica vibes. We can't wait to see how the mystery will complement their music.
Click here for more information about the event. Armada Entertainment organizes this event, so you know who to call if you have an upcoming show!
2. Read some good content online

Tired of reading the same stuff in your newsfeed? We gotcha covered! Depending on what your interest may be, we have some recommendations on who you can follow and check:
It's the first free Travel, Lifestyle, Entertainment, and Technology magazine in the country. Established in 2007, this magazine community will serve you all the latest buzzing trends and news.
A free online TV wherein you can watch, win, stream anytime and anywhere. You can even create your channel and upload your original content, whether about music, law and politics, OFW life, or anything.
They empower "lokals" and start-up communities by embodying a positive alternative lifestyle. They also release indie artists' local music performance videos that you can watch, and maybe this can be an avenue to widen your music playlist next time.
If you're stuck in traffic, this page is the perfect way to kill time. Charina, the writer and founder of MOLM, covers topics about life in general.
Established in March 2019, they are one of the fastest-growing content creator communities in the Philippines. You'll find their IDOL Search entertaining! If you are also a video content creator, hit them up with a message.
Are you looking for a place to record your music or do band rehearsals? Dayaw Studios might be the perfect spot for you. They also offer music arrangement, recording, video shoot, and editing. Plus, they also release performance videos of various Pinoy artists, which you can listen to while relaxing.
Para Sa Sining
Para Sa Sining translates to 'for the arts,' and defines art as Life. They believe that they are storytellers of their own narratives. Their page showcases local artistry and music.
3. Get a customized shirt or mug to keep you motivated

If you are tired of looking at your screens, maybe you can have a personalized shirt with your favorite motivational quote to keep you inspired whenever you look in the mirror. Have your shirt, jacket, mug, face mask, and more customized at Trihub Custom Clothings Co. and at Do It Your Shirts.
4. Uplift your mood with Milk Tea

Sure, you've drunk a lot of milk tea in your life, but you seriously need to try BLVCK Milk Tea! They are open to serve you from 10 AM to 12 midnight so that you can order their crowd favorites – Cheesecake and Pearl Milk Tea, Dark Chocolate Milk Tea, and Wintermelon! You can also choose from their different cheesecake, sandwiches, and wraps to match your drink.
5. Play a video game or watch gaming streams
Playing video games is an engaging and enjoyable way to reduce stress. If you love Mobile Legends, Valorant, Call of Duty, and more, you guys should watch these guys who play at Armada Entertainment, Panther Entertainment, and Eunoia Entertainment! Tara, one g?
6. Do a road trip around the metro
Drive around EDSA Viron, EDSA Genesis, Greenhills, and Marikina. Hey, if you spot our billboard, take a picture, upload it on Facebook, and get a chance to win prizes! Don't forget to use the hashtag #UnwindDigitalConcert on the caption and set it to public visibility. These billboards are powered by HDI Adventures.
Now, there you have it! Our six tips to break your routine and have a good time. Share with us your tips and ways to de-stressing at home or anywhere. See you on August 21!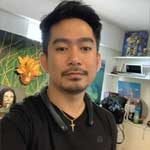 Josh Austria
Aside from being a businessman, Josh Austria has been working in PR and media industry for more more than a decade. From his years of experience as the Marketing and Advertising Head of Village Pipol Magazine, he has built strong relationships with creative people, brands, and organizations.