Ella Cruz is currently the most talked about personality in the Philippine news and social media. This came after she described history as a mere "tsismis" in a promotional interview for a movie about the Marcoses, where she plays a significant role as a member of the late dictator's clan.
Essentially, Ella's misconception of history, thus offending many, is the root of all the backlash. In fact, the 25-year-old celebrity remains a trending topic on Twitter for two consecutive days now. Although, one would say it's far from being a good thing.
However, before this recent controversy provided her career publicity like never before, several admired Ella as an actress, model, product endorser, and dancer.
Tsismis aside, let us look back on the past as we recollect the most historic Ella Cruz dance moments:
Twerk it like Ella
Atop the list is Ella's take on the 2014 Brandon Beal piece, Twerk it like Miley. As many would recall, the song became a worldwide hit among casuals and celebrities. On YouTube, Ella's dance cover of this song became her most engaging video on the channel, with over 17M views.
Give it to her!
Worth It is another viral hit song by Fifth Harmony, released sometime in 2015. Along its catchy lines is a bop-worthy move one would love to groove, including Ella herself. Her version of this trend from almost seven years ago harvested a whopping 7M views on YouTube.
See Also
Best fangirl moment
Ella is a proud admirer of the K-Pop girl formation, BLACKPINK. And perhaps dancing in front of her idols is her best fan goal so far! Last 2020, Ella had a chance to perform in front of the group during a Samsung live event held in Indonesia.
Tala taking over
Even before Tala became a phenomenal craze in 2019, Ella had bopped to the track a month after its release in 2016. Joining her jive to Sarah Geronimo's iconic single is the P-Pop girl group SB New Gen. As a result of this dance teamwork, they made it to 15M views and counting.
Versace on the Floor
Lastly, her boyfriend, Julian Trono, joins Ella on the dance floor! In what they called their first official dance collaboration video, they covered Bruno Mars' Versace on the Floor. The viewers commended them for having a "click" or great chemistry together.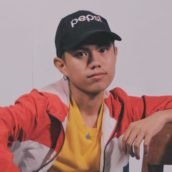 Renzneil Robles
Renzo is an introvert who prefers to do things at his own pace. Unlike most writers, he reads lazily. Watching Korean dramas at night is his constant source of comfort. Although oftentimes commended for being outspoken, he speaks better through writing than with his words.