Enchanted Kingdom is offering virtual rides for you to enjoy at home
Even the government is easing its restrictions, it is still prohibiting travel for leisure. We are still far from those days that we can go to museums, concerts, and amusement parks as these establishments cannot re-open yet. So if you are missing the adrenaline rush from thrilling rides, Enchanted Kingdom has a good surprise for all of us!
Experience the magic at home with Enchanted Kingdom's virtual rides and attractions
The Enchanted Kingdom began its operation way back on October 19, 1995. It is famous for the rides and its mascot, Eldar the Wizard. Four years ago, they started an expansion plan which includes the construction of the flight-motion simulator Agila: The EKsperience. However, this theme park is currently not operating since they are following the government's quarantine guidelines.
Although that's the case, thrill-seekers can still enjoy some of Enchanted Kingdom's popular rides even amidst the pandemic. You can now find their popular rides online! One example is the exhilarating Space Shuttle in which the slowly starts with a lift to a height equivalent to an 11-story building, before going down and approaching the loops at full speed. This ride is remarkably big that is easy to spot it whenever you pass the South Luzon Expressway.
According to Enchanted Kingdom's website, the ride turns guests "six times—three times forward and three times backward." For those who haven't tried this ride yet, you can watch this video clip. This might just convince you to make a beeline for it when the park reopens.
Another virtual ride that they're promoting on Facebook is Jungle Log Jam ride. This Amazon-inspired ride gives one a quick exciting drop. A maximum of four people sits in a "log" that goes up and down the slopes so you're sure to make a splash in the water. The best part of this virtual experience is not getting wet at all.
If you're not into those rides with scary heights, perhaps the Disk-O-Magic ride is perfect for you. It offers a unique 360-degree view of the entire theme park. There are also few excerpts from the EK Story Musicale and the video showcases homegrown songs sang by the main characters, Princess Victoria and Princess Madeline.
All the virtual rides and attractions are posted on Enchanted Kingdom's Facebook page. To see more content and updates, visit Enchanted Kingdom's official website and Facebook account: www.enchantedkingdom.ph and  www.facebook.com/enchantedkingdom.ph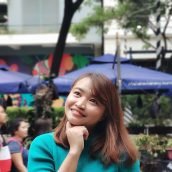 Queenie Lastra
Queenie Lasta got her bachelor's degree in Communications Research from UP Diliman. In her free time, she likes to read thriller novels, psychology books, and mangas. She believes in the importance of grit, hard work, and passion to become a great writer in the future.