Dwayne 'The Rock' Johnson gifts his custom truck to a man who serves victims of domestic abuse
On Wednesday, movie star Dwayne "The Rock" Johnson posted a heartwarming video on his Instagram page. He showed how he gave away his own custom truck to a navy veteran.
The Rock surprises his fans and one in particular
The star of the new Netflix film Red Notice wanted to give back to Oscar Rodriguez. This is after learning all about how the veteran takes care of his family and also vulnerable people in his community.
In his caption, he said,
"Today was a good day. Merry Christmas @coach_orod and enjoy your new truck. I invited fans to a special theater screening of RED NOTICE and I wanted to do something cool for all of them."
Gifting his custom truck to a very deserving fan
The fun video shows the star surprising the fans at the screening of Red Notice and promising them free concessions. He, then, calls the attention of the lucky Oscar Rodriguez and made him come to the front. This made the latter hug him tight as he and The Rock chuckled together.
Dwayne, then, proceeded to share with the audience all the good Rodriguez does for the people he loves. He mentioned how the veteran cared for his mother, military service, volunteered in his church, and cooked meals for women fleeing domestic violence.
Dwayne genuinely thanked Oscar for his amazing work, which obviously flattered him.
"Your story really moved me because I hear that you're a personal trainer, you're always keeping it positive and motivational and optimistic."
As the movie ends, the actor-wrestler had one more surprise for the church leader. He brought Oscar over to the Ford truck and hands him a letter. The former read this aloud and made him collapse to the ground when he realized what's happening. He also ran towards DJ to give him a hug.
"Thank you for your service, brother. Enjoy your new truck."
Having other plans but ending up with something better
In the said Instagram post, Dwayne revealed that he had a much different plan but it didn't come his way. This made him think of a better plan.
"My original idea was to give away the Porsche Taycan, that I drive in the movie, Red Notice. So we reached out to Porsche, but they said no. But I still said, yes 😉 I'll do one better. I'll give away my personal custom truck as a gift. My baby 😊."
After the grateful and awesome drive off with his new truck, DJ looked at the camera and said,
"His laundry list of caring credentials is pretty amazing, so it's just an honor for me to give a little bit of joy to a dude who probably deserves a lot more than just my truck."
Oscar posting on Instagram, Dwayne replies
Of course, Oscar had to post this on his Instagram, proudly displaying his new ride. Surprisingly though, the fun didn't end there as The Rock still commented on the post, leaving a nice inspirational comment,
"You're a good man, brother. I'm so happy God & the universe connected our worlds. Keep doing great things!!"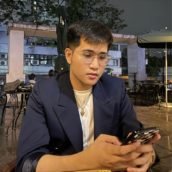 Raphael Garcia
Raphael is a person born between the generations of Millenial and Gen Z. He was produced by Cavite State University (Main Campus) with a bachelor's degree in Political Science. The lad has a fresh take on things, but can still stay true to his roots. He writes anything in Pop Culture as long as it suits his taste (if it doesn't, it's for work). He loves to wander around the cosmos and comes back with a story to publish.