We really anticipate that domestic travel will prop up the badly-battered tourism sector. The hope is there as the government slowly relaxes restrictions it implemented during the rise of COVID-19 cases.
Efforts to promote PH as safe tourist destination
The cost of testing has affected the recovery of the tourism industry. Several LGUs of the tourist destinations require RT-PCR as part of the health and safety protocols against COVID-19. As a result, tourists had to cancel travel plans because of the additional cost.
In line with this initiative, the Department of Tourism launched a new phase of financial subsidy. Through the Tourism Promotions Board, DOT aims to boost its domestic tourism recovery program.
Under this program, the agency will roll out FREE RT-PCR (reverse transcription-polymerase chain reaction) tests to 350 applicants. To avail of one, you need to go to the Philippine Children's Medical Center (PCMC). DOT said that over 12K domestic travelers may benefit from this program until the end of 2021.
Tourism Secretary Berna Romulo-Puyat explained that the program is part of the department's efforts to market and promote the country as a safe tourism destination. Thus, this may pave the way for a more robust recovery of the tourism industry.
DOT: Only for destinations requiring negative RT-PCR results
Romulo-Puyat also clarified that free testing was only for domestic tourists whose destination still required a negative result from an RT-PCR test or for staycation purposes. She added that a lot of destinations are now accepting fully vaccinated visitors, without the tests.
For example, Municipal administrator Carmela Datinguinoo said the Puerto Galera had started accepting fully vaccinated tourists and other travelers. She also announced that all economic front-liners in Puerto Galera, were now fully vaccinated.
Now, the town has an average of 1,000 tourists a day compared to just 50 in the previous months. If you plan on going to Puerto Galera, you must register first with the S-PASS travel management website.
Another destination on the list is Cebu province. Its LGU no longer requires travelers to present a negative RT-PCR test result. Fully inoculated individuals only need to present a vaccination card with a QR code.
You can also travel to Bohol if you already completed your vaccine. You only need to present these three things: a vaccination card, a government-issued identification card, and an S-PASS.
To know more information about the free testing at the PCMC, you may click this link.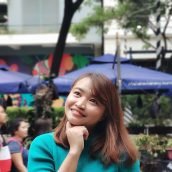 Queenie Lastra
Queenie Lasta got her bachelor's degree in Communications Research from UP Diliman. In her free time, she likes to read thriller novels, psychology books, and mangas. She believes in the importance of grit, hard work, and passion to become a great writer in the future.