Beatrice Gomez from Cebu City bagged the crown and title of this year's Miss Universe Philippines.
The 26-year-old will represent the country in the Miss Universe pageant in Israel this December 2021.
The grand coronation night, held in Panglao, Bohol, saw Rabiya Mateo pass the crown to Gomez.
During the event's question-and-answer segment, Gomez answered how she can continue inspiring others if she had sad encounters during her reign.
"It is very evident that all of us went through difficulties during this pandemic but it is also proof that we are able to rise to the occasion and if anything happened to me during my reign, I will not give up and inspire others by rising to the problems that I am encountering and by inspiring them that whatever you are going through you are able to overcome it."
On the other hand, Katrina Dimaranan of Taguig won the title of Miss Universe Tourism 2021.
She gets the task of taking over Gomez should she not be able to fulfill her duties.
Moreover, Cavite's Victoria Vincent got the title of Miss Universe Charity 2021.
Maureen Wroblewitz of Pangasinan bowed down as 1st runner-up, while Steffi Rose Aberasturi of Cebu Province got 2nd runner-up.
Gomez is a model, athlete, Philippine Navy reservist, and proud member of the LGBTQIA+ community.
Prior to her coronation, she won Best in Swimsuit and Best in Evening Gown, while taking home two special awards.
Gomez enters the Miss Universe 2021 pageant aiming for the country's fifth crown.
This comes after the triumphs of Gloria Diaz in 1969, Margie Moran in 1973, Pia Wurtzbach in 2015, and Catriona Gray in 2018.
Congratulations, Beatrice! May you soar high in representing our country in December's Miss Universe pageant!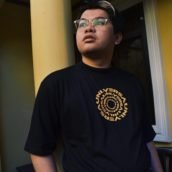 Kobe Adam Joshua Laurena
Kobe Adam Joshua Laurena is a writer who loves to tell stories from the perspectives of different people and everyday life. Apart from the pen, he loves to pick up the lipstick to transform into his frustrated drag persona: Anita Good Lovin'. He aspires to combine his love for writing and drag by creating a novel, short story, or screenplay about local drag queens in the future. He also has an obsession with sitcoms, women's pro-wrestling, and Funko Pops.