Beatrice Gomez received a heartwarming congratulatory message from her girlfriend, performance DJ Kate Jagdon, after being victorious in the Miss Universe Philippines 2021 pageant last Thursday, September 30.
On Instagram, Jagdon posted a photo of Beatrice during her coronation in Panglao, Bohol.
"You have proved once again [Beatrice Gomez] that you're worthy of all the big things in life. Congratulations to you for doing it once again! We are so proud of you!"
Moreover, she described Beatrice's journey of authenticity towards the crown as an inspiration to Filipinos.
"The new Ms. Universe Philippines 2021 Beatrice Luigi Gomez and the rest of her court, besting over 99 other candidates in the competition. Your journey of being authentic is an inspiration to every Filipino,"
Jagdon went on, thanking the team behind Beatrice's victory.
She concluded her post by expressing gratitude to Gomez's family, friends, and supporters.
"[T]hank you so much. You are the reason why she held her head high and continued to conquer her fears."
Beatrice will represent the Philippines in the 2021 Miss Universe pageant, set in Israel this December 2021.
The 26-year-old model-athlete and Philippine Navy reservist succeeded Rabiya Mateo, who lasted until the Top 21 in the 2020 edition of the Miss Universe pageant.
Beatrice went viral last month for highlighting her same-sex relationship during the Miss Universe Philippines 2021 Interview Challenge.
She and Jagdon have been a couple for six years now.
Congratulations, Beatrice! May you wave the rainbow flag towards your journey towards the Miss Universe crown.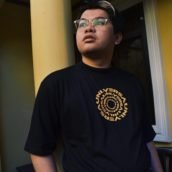 Kobe Adam Joshua Laurena
Kobe Adam Joshua Laurena is a writer who loves to tell stories from the perspectives of different people and everyday life. Apart from the pen, he loves to pick up the lipstick to transform into his frustrated drag persona: Anita Good Lovin'. He aspires to combine his love for writing and drag by creating a novel, short story, or screenplay about local drag queens in the future. He also has an obsession with sitcoms, women's pro-wrestling, and Funko Pops.