All-Pinoy Christmas songs to add to your December playlist
Photo by: Kimpoy Albalate
Christmas for Filipinos is unmatched. Not only do we celebrate it the longest in our country, but it's also a season we implore giving, and reigniting connections.
Unfortunately, it seems that we are more likely to spend the coming holidays similar to what happened last year, 2020. The COVID-19 crisis is to be blamed for stumbling against our ways of usual happiness and contentment.
But thanks to music, we at least have the avenue to alleviate our yearning for what's impossible at the moment.
Do you hear the jingle bell chimes? It's not only you! Together, let us summon the spirit of Christmas by adding these tracks to your December playlist:
"Ang Pasko ay Sumapit"
There is no better way to start our list than to name a song that signals the coming of Christmas. And by that, we mean "Ang Pasko ay Sumapit!"
Commonly played in churches during 'simbang gabi,' this carol just holds so many memories of us as a child, innocently admiring the times of Christmas.
Willie Revillame's "Boom Tarat Tarat"
Willie popularized this song through his noontime variety show, "Wowowee." It was not originally a yuletide song but due to its fitting harmony, a Christmas version was released soon. Close to people's hearts, for sure both kids and the elders will sing along this novelty.
Aegis' "Christmas Bonus"
Amid Christmas songs that are usually made to stipulate happiness to children, Filipino rock band, Aegis prefers to be different. Behind the hit, it aims to satisfy not the young ones, but adults who would best relate to this.
Because Christmas is also a matter of being practical, it is a more realistic take on our favorite season.
Jose Mari Chan's "Christmas in our Hearts"
For sure you've encountered at least one Jose Mari Chan meme since "Ber" months kick-in. It has become part of our culture and this track is the very reason! The moment the classic line "whenever I see boys and girls…" plays, it is given— the best time of the year has come!
Joey Albert's "Kumukutikutitap"
As the name sparks positivity, so does the song. Veteran music icon Ryan Cayabyab crafted this among his several masterpieces. With the best use of evocative lyrics, this will allow you to appreciate the beauty of Christmas. Its excellent melodies will take your mind on a journey to visual imagery.
Gary Valenciano's "Pasko na Sinta ko"
December 25 is also a matter of being with someone special. Hence, this Gary Valenciano ballad hits the spot for those who prefer being dramatic than to be happy for Christmas.
As some may call it, a theme song for "samahan ng mga malalamig ang pasko."
SexBomb Girls' "Spaghetti"
Would we miss the chance to name an entry that is a party-staple? Heck no! This bombastic sound trip is a must to play during children's get-together. Legendary pop group SexBomb Girls marketed the song that instantly invigorates dance showdowns.
ABS-CBN's "Star ng Pasko"
The best Christmas station ID of all time! Numerous attempts have been made to match its existence but it remains incomparably nostalgic. Released in 2009, it's a song that gave inspiration to the entire nation after the devastation of Typhoon Ondoy.
"Sa May Bahay Ang Aming Bati"
Does this one still need further explanation? It's our classic Christmas carol! Probably, every one of us can sing this even with our eyes closed. With a message that reflects the Filipino culture, this song will always remind us of Christmas at the comfort of our home.
Ariel Rivera's "Sana Ngayong Pasko"
Lastly, is another song to embrace the feeling of longing. Multiple renditions of it may have existed since then, but Ariel's heartfelt voice is what best gave life and justice. Despite being an oldie, it remains timely relevant for most Filipinos during every Christmas.
Now, which of these songs is your favorite?
Pandemic indeed tainted the usual way we viewed our life— and that includes our looking forward to Christmas as the season of our happiness.
Times might have changed, and us too. However things may turn out different than they were, I hope for one thing constant. And that is the love, and compassion of Filipinos.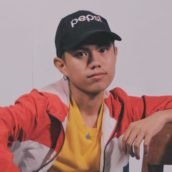 Renzneil Robles
Renzo is an introvert who prefers to do things at his own pace. Unlike most writers, he reads lazily. Watching Korean dramas at night is his constant source of comfort. Although oftentimes commended for being outspoken, he speaks better through writing than with his words.