Visayan Pop songs or simply Vis-Pop is now slowly making its way to the landscape of local mainstream settings. Amid the hype of foreign music which we Filipinos greatly admire, it's just impressive to witness our very own thrive.
You sure have heard them play on radio stations or perhaps through dance challenges on TikTok. Some are even charting locally and internationally.
Unsay atoa mga Bisdak? Stand proud! It's time to make some noise because we'll list down some Vis-Pop songs worth checking out.
Cebuana by Karencitta (2017)
To kick off the list, we have the bouncy and fierce dance music, "Cebuana." Although released in 2017, the song by Karen Cabrera aka Karencitta remarkably made a transformative impact on the Vis-Pop genre.
Hence, it's a must–talk about!
In its time of release, Cebuana is a hit for everyone. It swayed to popularity with its catchy and upbeat vibe. According to the American-Filipino artist, she is a "fully-pledged Cebuana" herself. That explains why the song reflects her paying gratitude to her roots.
The lyric that spits fire, the great musicality, the overall quality— one should just listen to this so they can tell it's a bop! To date, its music video has accumulated almost 25 million views on YouTube and counting.
Asa Naman by Maris Racal (2021)
Have you ever got frustrated waiting for special someone? Then relate to our next track!
In September 2021, actress and singer-songwriter Maris Racal released her new song entitled "Asa Naman." Among her collaborative works with boyfriend Rico Blanco, this one aims to pay homage to her Visayan descent.
Maris explained that the pop-rock song with a mixed Filipino-Visayan lyric is not just a sheer expression of disappointment. It also conveys a subtle message that sometimes, things do not turn out the way we want them to be— the same way love happens.
Listen to Asa Naman as it is a result of pure hard work. Maris did not only co-write the song but she directed, styled, and even oversaw the music video production as well!
Palayo by FELIP (2021)
Felip is the name for SB19's Ken Suson, who was the first in his group to debut solo. His fiery and self-written single is called "Palayo."
In the cliche of the romantic genre, Felip dared to establish his originality through a unique take on a usual "love song."
Like the title implies, Palayo is a Vis-Pop song about walking away from a toxic relationship and choosing self-love.
Following its audio release is a music video featuring a sultry aesthetic dance choreographed by Felip himself. The inspiration is to love ourselves more, "especially in times when it's difficult and painful to do."
Upon his solo debut, Felip dominated the music scene by topping both nationwide and global charts.
An anthem to celebrate amour-propre, Palayo is the absolute answer.
Pangga by Matthaios (2020)
Remember the Catriona and Binibini dance challenge that went viral on the internet? Well, we know you do. And the singer behind those is the very artist behind "Pangga," the fourth on our list.
Released in 2020, Rapper Matthaios proved he is no one-hit-wonder by creating yet another song that is viral-worthy. Like his known signature, Pangga is a sweet pop-love song told from a perspective of a man.
The lyric sings adoration to a girl which explains the title, a Visayan endearment closely equivalent to 'sweetheart.'
See Also
The first version of this track was a collaboration with artist, Soulthrll. Then recently, Matthaios dropped a remix variation with added flavors from Michael Pacquiao and SB19 Ken. But either of the versions is appealingly feel-good.
Gugmang Ga Aso Aso by DJ Rowel (2020)
TikTok enthusiasts, where are you at? Our last entry is dedicated to all of you!
Gugmang Ga Aso Aso is a Visayan pop R&B song that trended in 2020 at the height of pandemic. If like everyone else, you installed TikTok out of boredom due to quarantine, then no doubt this will be familiar. It's a massive hit on the platform that also became a lasting dance challenge in the era of lockdown!
Although it's difficult to find an exact equivalent of Gugmang Ga Aso Aso in English or Filipino, the track means literally its title— a song of sweet, overflowing promise of love.
DJ Rowel, the artist after the song is also behind "Ikaw Ra Gang," another Visayan sensation in TikTok that many loved.
These are only a few out of many
Filipino music is alive, it is well flourishing. Thanks to our local talents that untiringly waved the flag in the depths of the competitive scene across the globe.
While admiration of foreign music is never bad, what's unacceptable is when our diversity is treated as something inferior; when it is considered as second-rate only because it is different from our accustomed liking.
Instead of suggesting we give our local artists a chance, I prefer saying may we rethink our standards. Vis-Pop rise, OPM rise!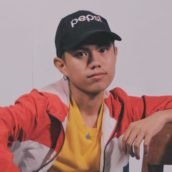 Renzneil Robles
Renzo is an introvert who prefers to do things at his own pace. Unlike most writers, he reads lazily. Watching Korean dramas at night is his constant source of comfort. Although oftentimes commended for being outspoken, he speaks better through writing than with his words.