Seemingly committed to spoiling Magiliws with more surprises, ALAMAT gives a taste of their upcoming mini-album through a lead single, "Say U Love Me."
Composed of Alas, Jao, MO, R-Ji, Tomas, and Taneo, ALAMAT not long ago disclosed the plan to launch a mini-album this 2022. In fact, it was a wish granted for fans who supported every act's single― starting from their debut kbye to the most recent Sa Panaginip Na Lang.
Now, as if the excitement for their much-awaited extended play (EP) is not intense enough, the sextet is stirring more twists on the plot! Just last July 07, ALAMAT released their newest Visayan-Pop (Vis-Pop) song, Say U Love Me.
Compared to their previous tracks, Say U Love Me is the group's exploration of the R&B genre. While romantic, the song tackles a relationship between two people falling out of love. On the other hand, the members dance to a subtly sultry choreography.
To date, the Say U Love Me official music video uploaded on YouTube is close to reaching 100k views. On its premiere, the hashtag #ALAMATSayULoveMeMV also emerged as the most talked about topic on Twitter. Meanwhile, positive responses to this new music piece are non-stop.
See Also
Aside from the MV, fans can look forward to a couple more things ALAMAT revealed. These include a reel on their making process, an official dance practice video, and a dance version of the MV.
So, have you watched ALAMAT's Say U Love Me yet? If not, stream it here!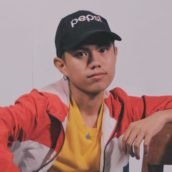 Renzneil Robles
Renzo is an introvert who prefers to do things at his own pace. Unlike most writers, he reads lazily. Watching Korean dramas at night is his constant source of comfort. Although oftentimes commended for being outspoken, he speaks better through writing than with his words.