Around the world, we are celebrating Mother's Day as a mark of respect and honor to that most special woman in our life. This annual occasion also shows love and respect to our moms for their contribution to building a better home.
For Mother's Day, show your mom that she's special and deserving of so much love
You might be thinking of ways to make this day one-of-a-kind for your mom. Even though we better do it at home for our health and safety, there are plenty of ways to show her how much you love her. Our team has come up with some great ideas on how you can have a lowkey but memorable celebration:
 Have a small room makeover
Doing the general cleaning of your house might be a great gift. However, your mom would be totally pleased if you craft a small makeover for her favorite part of the house. If she's a bookworm, then find a spot for her reading nook. Coffee is often your mom's BFF so perhaps a coffee corner would make her happy. Meanwhile, a relaxing bath sanctuary is the best place to make her feel pampered like a queen.
Order a beautiful and yummy cake
One way of making your mom feel special is through delectable sweets. Nowadays, there are different cake trends like the classic basque burnt cheesecakes, the luscious and creamy strawberry cakes, and the stylish minimalist cakes. Just know her favorite flavor and sweetness preference to make sure she'll enjoy the treat.
Create a video presentation
We know that video slideshows are pretty common nowadays, but Mother's Day is a perfect day to be sentimental. While watching the video, you and your family can take a trip back in time with milestones and happy memories. Thanks to technology, you have several options to prepare the video using your laptop or even your smartphone.
Spend the day scrapbooking
Does the mom in your life love to scrapbook the printed photos old-school style? Then a cool way to show your interest in her hobby is by joining and having fun. You can order arts and crafts tools and materials online to avoid going out. There are studies that said making a scrapbook can lower stress levels and helps you calm down.
Bond over a movie night
Prepare some snacks like popcorn and chicken wings. If you don't have time, just order some pizza or burgers through your favorite food delivery service. There are tons of movies and series available on Netflix, Hulu, and Disney Plus so your mom has options for movie night. Maybe it would be better to silent your devices so you and your family won't be distracted the whole time.
Do you have other ideas to celebrate the occasion? Share it with us in the comment section!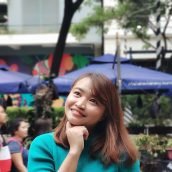 Queenie Lastra
Queenie Lasta got her bachelor's degree in Communications Research from UP Diliman. In her free time, she likes to read thriller novels, psychology books, and mangas. She believes in the importance of grit, hard work, and passion to become a great writer in the future.