In just a few days, we're saying goodbye to 2020, and at the same time welcoming a brand new year — 2021. What a great way to do this is to give your home a makeover!
Design trends for your house makeover
There are things we can change to create a whole new look or just make it more fresh and appealing. To help you begin with your concept, here are the top 4 design trends:
Biophilic design
Biophilia (meaning love of nature) focuses on human's innate attraction to nature and natural processes. According to research, adding direct or indirect elements of nature into your environment may reduce stress, blood pressure levels, and heart rates. Aside from that, it increases productivity, creativity, and well-being.
To apply this principle in your own place, you can add elements like wood, stone, greenery, and indigenous materials. With this kind of interior, you can connect with nature and achieve that refreshing vibe you've always wanted.
You can also choose an earthy and neutral color palette for your rooms. Moreover, if you like to incorporate a contemporary design, you may do so but keep it soft and textured.
Cozy and glam mix metal
If you are looking for elegance and refinement, then the cozy and glam mix metal might be the design for you. This incorporates upscale elements such as fur, glass, and metal. To prevent overbearing in your house, you can limit your choice of metal to at least two to three shades.
Warm metals, like gold and brass, come off as a rich pop of color and texture when placed with cool metals like silver and chrome. Those who have a modern, stainless steel kitchen may add a gold chandelier or vintage piece to create texture and charm.
Mixing metals is the perfect strategy for adding visual interest and depth to space. Also,  it's an effortless way to make the pieces in your home look like they've been collected over the years. How classy!
Bright and cheerful
Some people like a sunny and happy vibe at home so it's perfectly fine to use bright and uplifting colors for your decorations. Transform your place into a personal haven wherein you can learn a new skill or just relax from a long day at work.
In order to create this atmosphere, you have to carefully choose items that can inspire you or bring you joy. They can be plants, photos, or your own collections. Just remember that your furniture pieces will not clash with each other to maintain balance.
Neutral industrial style
Opposite of the bright and cheerful ambiance, the neutral industrial design symbolizes a modern and professional owner. But since it focuses on the clean look, the place is still inviting.
For furniture, it makes use of various tones of woods. Just make sure to stick to the color scheme you already have in mind. You can repaint your walls with plain but light colors for a brighter place. Then to strike balance, you can select objects in dark colors for accent. This helps to prevent your home from looking dull and boring.
So what's your design preference?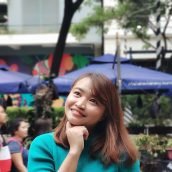 Queenie Lastra
Queenie Lasta got her bachelor's degree in Communications Research from UP Diliman. In her free time, she likes to read thriller novels, psychology books, and mangas. She believes in the importance of grit, hard work, and passion to become a great writer in the future.