Name a TikTok personality that defies the video-sharing platform from an entertainment source to an online arena where users can learn or be educated. And surely, the name Ramon Christian "Arshie" Larga pops up.
He, a 26 years old native from the municipality of Boac in Marinduque, the heart of the Philippines, has come so far. Scrolling through his then-average life, Arshie clicked on an unsought chance that tapped his fate to change for the better.
By being a prominent image on some of the major social media platforms, it's safe to say he is not a stranger. However, who is Arshie behind the surface character with frequent appearances on our screen? Let me explain!
TikTok PH's most popular pharmacist
Arshie Larga is a licensed pharmacist. Initially, he dreamt of becoming a cabin crew with the fulfillment of traveling the world while working. But because of his mother's encouragement, who has a pharmaceutical career, he opted for the same option.
Additionally, their family also has a business in pharmacy that awaits his succession. While hesitant at first, he went for the dream his parents wanted for him in the end.
"I took up BS Pharmacy at Centro Escolar University- Manila and graduated in 2016. The same year, I took the Pharmacist Licensure Exam and passed on my first take. After that, I pursued a Doctor of Pharmacy at Centro Escolar University (Makati) and got my PharmD degree in 2018."
Past forward in 2020 came the Philippines' most depressing time at the height of a new health crisis which is COVID-19. The tortuous shift in quarantine and lockdown policies forced people to stay at home. Of course, it led them to embrace the leisure brought by the internet, particularly the booming enjoyment offered by TikTok.
On the other hand, Arshie was already a user of the platform way before it went highly famous. According to him, he discovered the app in 2019. Like anybody else, he only aimed to consume entertainment until a situation gave way to his spotlight.
"At first, I was following trending videos in the app, basically just for entertainment. I had no plans to become a content creator since I'm a full-time pharmacist helping my mother run our business."
Yet, amid the heightened use of social media applications, misinformation and disinformation spread alongside the virus. The threat of corrupted minds further worsening the global health situation called for someone credible enough to provide accurate information.
"When the pandemic happened, I noticed that many people were misinformed or not properly guided on using certain medicines. I just shared my knowledge as a pharmacist to guide and educate my audience. Starting there, people began asking me more questions."
From accommodating inquiries with only the pure intention to help, Arshie became consistent in uploading videos. Until the unexpected point arrived, his COVID-related TikTok entries went viral. He detailed to us his reaction to this breakthrough:
"I was shocked, happy, and grateful. While many people aspire to become content creators or an influencer, I was blessed enough to be allowed to build a name for myself. Like, anong ginawa ko to reach this point?"
For Arshie, the subsequent narratives that occurred since then are unwatched progress. Although the internet witnessed his growth, it was all awe and surprise from his standpoint.
Arshie never planned to be a TikTok content creator:
From how well-versed he seemed at presenting himself in front of the camera, it's a surprise that Arshie described his achievement on TikTok as "unplanned." But to be fair, he shared that he once attempted to chase a similar idea on YouTube:
"I had no plans of becoming a content creator. Even before, I tried creating content on my Youtube channel, but it wasn't successful. So, I decided to focus on my job full-time."
Arshie explained that he refuses to brand himself as an influencer. Instead, he prefers referring to his position as a content creator. Moreover, being a pharmacist will always be his top priority despite the growing internet influence.
"Ako'y isang empleyado rin! But things changed after some of my videos went viral, then brands started taking notice and offered me projects. I received PR kits and was able to attend events na dati pinapanood ko lang sa iba. And that's when I told myself na ito na yata 'yun!"
Does he see himself in this practice forever?
When asked about his opinion on seeing his current role online as something long-term, Arshie chose to acknowledge uncertainty. While many projects may swarm him now or in the future, he still doesn't see doing this practice for the rest of his life.
"At the moment, ang gusto ko sa current setup ko is being able to create social media content while working as a pharmacist. Hindi lahat nagagawa ito kaya I am thankful for the privilege."
If he did not become a pharmacist, Arshie said he is perhaps a cabin crew or a flight attendant by now. However, he does not regret following his parents' advice.
"I'm just enjoying the moment. Kung may darating na offers, salamat. Aarte pa ba? Tanggapin din dahil sayang ang opportuninty. Kung wala man, nandyan pa rin ang botika namin."
On being an internet personality:
TikTok harbors many users that produce pranks, tricks, experiments, and skits for amusement. But what sets Arshie apart from those is how he made learning simple and, at the same time, fun. He expounded on his formula in presenting his trademark content,
"My content revolves around current trends related to health or medicines. If wala, I get ideas from the comments section of my videos para alam ko what interests my followers. Regarding the execution and delivery of my content, hindi sa pagmamayabang, it's natural for me."
Arshie pertained to his practical approach to medicine as his authentic character. The way he talks to people, as seen in his videos, is what he does every day.
Meanwhile, getting recognition in public places is the moment of realization for Arshie, and that's when things sank in for him. On top of receiving above-average attention, he has bagged several awards too.
Recently, he won the Popular Creator of the Year at the TikTok PH Awards 2022. He has also been named the Best Regional Influencer during the Thailand Influence Awards 2022. Hence, how does he handle fame?
"I enjoy the moment, but after that, balik sa normal. I'm happy and proud without bragging about this and that. Kasi, I'm just a normal person at the end of the day."
Arshie further elaborated that he avoids getting drunk from fame and attention.
"Mahirap na, baka masanay ka tapos kapag nawala na, it might affect your mental health and well-being. Kaya maganda nang marunong makuntento sa kung ano ang meron tayo."
The advice he wants to prescribe
Arshie recalled how being a content creator impacted his life and that words will not be enough to describe those. That's why aside from being financially stable, he valued the realizations and the experiences the most. On the advice he wants to say to all aspirants:
"Things don't happen overnight— walang instant fame, you have to work hard for it. It's important to set your limits and learn to appreciate what you have. Minsan may mga nauuna sayo, but you'll also get what you deserve and prayed for."
Furthermore, Arshie warned that money should not motivate the creation of content. He would treat his TikTok career as a hobby he enjoys doing with passion. Significantly, the state of burning out is what can stop him from doing what he does.
"What I do to avoid burnout is balance things and prioritize my mental health. I make sure I still have personal time and know when to slow down. It's hard to create genuine content if you're not physically, emotionally, and mentally ok, and the viewers will notice that."
Something about Arshie that others don't know yet is his looking past the number of likes, comments, and views of his videos. He learned that getting disappointed from not meeting expectations affects his productivity. Now, he spends his time and effort assessing the responses to his outputs with an open mind.
Speaking of, here's a message from Arshie to all his followers:
"Walang sawang pasasalamat sa lahat ng sumusuporta at nanonood ng videos ko. I wouldn't be able to achieve these things if it weren't for you guys. You changed my life drastically! I promise to keep creating educational videos to reach out to more Filipinos about medicines."
Arshie Larga and his dose of luck and responsibility
For Arshie, one proudest fulfillment in this practice is how he educated not only people in their medicine but also about his profession.
"Somehow, I was able to help change the people's perception of the pharmacy profession in the Philippines. We are not only tinderos or tinderas; drug dispensing is part of our job. Most importantly, we provide patient counseling and drug information."
Through his influence on TikTok, Arshie gave free medicines to those who needed them. He promoted this goodwill on his account, inspiring more people to do the same. He is also thankful for the donations that furthered his capability to help.
On his fate as an online sensation given the privilege of the platform, we asked Arshie. Is it luck, fate, or responsibility? And this is how he responded,
"Part of it is luck kasi nga naman. Of all people who wanted to make it into the world of content creation and social media, I was fortunate enough to be one. But like they say, with great power comes great responsibilities. Lalo na sa position ko na malawak ang makakakita ng mga videos ko, I am liable sa mga content na ako ang gagawa."
"As a pharmacist by profession and as a content creator, one of my objectives is to fight disinformation and misinformation on social media. We are knowledgeable and equipped with the proper skills to impart accurate information and tackle different health-related issues. As a creator, I took it as a responsibility to implore the public in making informed decisions."
Arshie yearns for no more. He sought contentment in every new height he reached in the past years. While he leaves it to the above to direct his life, may his fate parallel this nation's need— a remedy to our misery and a cure to the falsehood in this society.
Publisher | Richie de Quina & Gwynn Crisostomo
Editor-in-Chief | John Luke Chica
Senior Editor | Rapha Garcia
PR & Advertising Manager |  Josh Austria
Digital Manager | Allen Esteban
Words by Renzo Robles

Photographer | Roj Miguel
Photo Manipulation | Natu Xantino
Videographer | Pogs Francisco
Grooming | Paige Seneres
Hair | Bhelle Alba
Stylist | Nash August
Associate Stylist | Gab Urbano
Outfit | Yanni Tui
Earrings | Job Dacon
Special thanks to Tea Ni Juan, Papay's Franchise and Jacko's Burger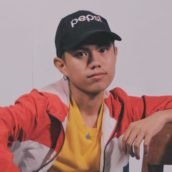 Renzneil Robles
Renzo is an introvert who prefers to do things at his own pace. Unlike most writers, he reads lazily. Watching Korean dramas at night is his constant source of comfort. Although oftentimes commended for being outspoken, he speaks better through writing than with his words.