Indeed, the international phenomenon called RuPaul's Drag Race has touched the lives of many by being a remarkable influence and source of entertainment for the LGBTQIA+ community and allies alike. It has introduced drag queens of high caliber with mesmerizing and unmatchable charisma, uniqueness, nerve, and talent, to the world.
With its success, it has also birthed numerous franchises across the globe. Who would have thought that a conservative country like the Philippines would be one of them? After wrapping up its first-ever season and crowning the Pearl of the Orient Seas' first drag superstar, Drag Race Philippines was able to show the world how immaculate the drag scene in our country is.
Along with their sisters in the first season, a trio of astonishing divas got to show the world the art of drag in the Philippines. And in this cover story, Viñas DeLuxe, Brigiding, and our pride, the country's first-ever drag superstar, Precious Paula Nicole spilled the tea on what it was like to compete on the show, as well as what it means to the drag community here in the country.
We present to you, the Divine Divas — the Campy, the Divergent, and the Heart.
The impact of Drag Race Philippines on the Philippine drag scene
Being in the first-ever season of the Drag Race franchise here in the Philippines clearly is huge shoes to fill considering how the show has come a long way around the world, amassing ten international spin-offs.
The queens who have competed gained international fame and prestige, and it is undeniable that some of them have capitalized on that and have built ridiculously successful careers that can be considered hard to attain. Being on the series really is a big deal.
Now that we have our own, the Filipino drag queens who entered the competition are the pioneers of the show in the country and in this era of Drag Race. And they can clearly see its potential benefits for them and the drag community as a whole.
"Maraming nagkaroon ng access at marami nang bagong fans ang drag queens dito sa Philippines na dati naman di nanunuod ng Drag Race. And ibig sabihin nun mas maraming opportunities sa mga drag queens at marami nang establishments and nago-open para mag-cater ng mga drag queens."

Precious Paula Nicole on the impact of Drag Race Philippines on the Philippine drag scene and on the LGBTQIA+ community
"It elevated the drag scene here in the Philippines. It changed the system. Most of the clubs appreciate the art of drag even better because of the show. And it's impactful, not just for us but the whole community as well."

Viñas DeLuxe on the same topic
What connects the Divine Divas to each other?
With such an iconic trio like the Divine Divas, we should be curious to know what bond they share with each other that makes them work and how it came about.
Brigiding shared how the pandemic was the reason for their becoming, as well as their need for a community, a sisterhood, and a support system to help each other get by through the hardships of the worldwide catastrophe.
"Nasaraduhan kami ng clubs. So we needed each other to stick together and find the goodness in everything that is happening during the pandemic. And today, we are very lucky to have gotten each other in Drag Race and are living our dreams together after the show."

Brigiding on what brought the three of them together
On the other hand, when it comes to their magic as a trio, it is evident that when they come together, their charisma is very much effective. This must mean that there is a common denominator between them that sets them apart from the other drag queens—an overall persona or thing that the three of them possess.
And the answer to that is their love and passion for performing as artists as well as their wonderful friendship which is beyond the competition and the club scene. Aside from their undeniable talent, they have a relationship that is not only on a surface level—the Divine Divas are as one.
The win of Precious Paula Nicole is the win of the Divine Divas
Throughout the competition, Precious, Brigiding, and Viñas have truly shown how their sisterhood became one of their driving forces. They became each other's rock. So with the win of Precious Paula Nicole, Viñas and Brigiding couldn't help but feel elated about their sister's huge achievement.
"Sobrang saya. Kasi Precious' win is the win of Divine Divas. And of course, the win of an inspiring person. Yung mga nangangarap na drag queens na what ever story they have, if you really believe, and if ginamitan mo ng puso yung pag-pursue mo ng dreams mo, you will achieve it."

Brigiding on the win of Precious Paula Nicole
"I feel like I also won."

Viñas' short but sincere answer on the topic
The Season's Queen of Camp
Hey mga misis, it's Viñas DeLuxe! She's fun and campy with fabulous looks. Truly, Viñas is one of the several queens who was received well by the fans of the show. Her undeniable charisma speaks to the masses—with a lovable personality and incredible taste in fashion.
Dubbed the Campy Queen of the season, this diva never disappoints on the runway, even winning the first-ever design challenge in Drag Race Philippines herstory.
Although quite misunderstood by the judges, her Pink Pak Boom runway look was also very memorable to the fans, even some of them labeling it as one of the best that has ever graced the show. Not to mention her manananaggal runway look that trended on social media sites for its very whimsical approach to the well-known Philippine monster. Aswang but make it glam, indeed.
"After Drag Race, parang mas nakilala ko pa yung sarili ko. I didn't know that I am that campy. When they gave me all the things to prepare, yun yung mga pumasok sa isip ko. And it says a lot about my character. I think that's the real me because those are all my ideas. Dun siya lumabas. Kasi sa bars naman pinagpe-performan ko, wala namang masyadong hinihingi na requirements. Shinoshow ko lang yung sarili ko. Pero yun pala, pag may kailangan ako mamili, my choices are very camp."

Viñas on being dubbed the "Queen of Camp"
And as if the tea couldn't be more piping hot, the Queen of Camp spilled some behind-the-scenes goz about her "…she's fun and campy with fabulous looks" lyrics in the season's Girl Group Challenge, Pop Off, Ate.
"To add to that, sa 'fabulous looks,' (reffering to the lyric) may nag-sabi pa nga sa'king isang drag queen na di ko na lang papangalanan, 'seryoso ka sa lyrics mo lalagyan mo talaga ng fabulous?'"

Viñas, spilling the tea on another drag queen who questioned her "fabulous looks" line in "Pop Off, Ate"
Viñas as the fan favorite of the show
"It feels amazing invoking the sensibility of humility, especially since my family and friends are supporting me," the drag queen answered when asked about what she feels about the overwhelming support of the fans to her. Although already making sense as a very pageant-y answer, she was apparently kidding. (Yep, that is definitely Viñas)
Her actual answer is,
"I am so happy because I came into the competition without any expectations. It was just a normal gig for me. I didn't know what would be the perception of the masses to the show. I didn't expect that it will actually change my life."

Viñas on the overwhelming support of the fans of the show to her
Her shocking elimination
It was a huge shock to everyone when the queen who had received a lot of praise in the competition and had been so consistent with her run on the show was suddenly eliminated. Truly, to see her lip sync against the talented Eva was really heartbreaking to see, most especially when everyone knew she had an injury as she did the whole performance.
"Sa part ko it's all fun. I didn't realize na ganon pala siya ka-grabe until I watched the audience's reaction. And parang, ah, siguro may na-touch din pala akong lives sa run ko sa Drag Race. Baka I was able to impart some good vibes and kung ano man na naka-relate sila sa akin."

Viñas on her heartbreaking elimination
With her success on the show and being adored by her fans, mga misis, Viñas has really come a long way. And she wishes for every dreamer out there to succeed as well, inspiring them to have as many dreams as they like.
"You can reach your dream if you don't make it just a dream. You need to work hard for it and turn it into reality for you to experience it. And if you have finally achieved this goal, it's time for you to make another."

Viñas and her message to her fans
The All-Around Divergent Queen
Brigiding-ding-ding, probably was the most well-known queen entering the competition and might have had the most to lose. With her reputation in the drag scene who even had opportunities to perform abroad, everybody who loved drag in the country knew her. That is why the pressure was definitely on once she set foot in the Werk Room.
Most certainly, it was incredible to see how she kept her cool all whilst being surrounded by a lot of expectations both from her peers and the judges. She took every critique and criticism like a champ and we love her for that.
"With my nine years of experience, we've had so many trials, criticisms, judgments, being a gay man, drag queen, performer. So ginamit ko lang lahat ng yun until mag-Drag Race. Yun ang singkalan ko, na this is what I do and I am here for a reason. Regardless of all the judgment and the critiques, I am here as a queen, whatever happens. Before and after the competition, I am a queen."

Brigiding on how she was able to keep her composure during the critiques and despite people's expectations
Brigiding and the search for her "branding"
We know that the term "branding" has been a running joke when it comes to Brigiding's drag but it seemed like everyone just mistook her quality of being an all-around divergent queen for a queen "with no branding." Here is what she has to say about that,
"Ang mga kailangan lang naman ng branding is yung mga bagong brands eh, diba? Kapag nagpapakilala ka, you have to have a brand for the people to remember you. And I think, some need it the most because they have not been doing drag for a long time or it's what they can lean onto when it comes to their drag. So for us, lalo na sa amin who doesn't really need to have a brand because we are the brand and we've been performing for years, di talaga siya issue. Yeah, maybe for some, they need it. I mean, people see what they want to see. For us queens, it all boils down to the performance and what we bring to the table, on the show, or onstage."
You don't owe your identity to your peers or anyone
The diva who can do it all has a message for her fans out there who are not understood by their peers and those who are still searching for their identity. Also, Brigiding presents a different take on what to follow whenever there is a dilemma between the opinion of the mind and the call of the heart.
"You don't owe it to your peers. You just do what you do best and you just need to stick to your gut feeling mo, kung saan ka magiging masaya. Always follow what you feel not what you think. Our mind can be misled by the interpretation of other people. You may take things differently because you think about what they are saying. But if you follow what you feel, what makes you happy at that time, making the choice, then it will show and really bring you to places. Kapag ginamit mo yung utak mo lang, puwede ka magsisi eh. Pero if you follow what you feel, and nagkamali ka, hindi siya masakit an mahirap tanggapin, kasi sinunod mo yung nararamdaman mo."

Brigiding's message to her fans who feel lost
The Winner with a Heart
And of course, to the precious, delicious, ambitious first-ever winner of Drag Race Philippines, Precious Paula Nicole, a huge condragulations! She has indeed shown not only her magnificent skills and charisma on the franchise but most importantly, her heart, which probably made people love her more and got her the coveted crown.
Shining in almost all of the episodes and then later lip-syncing her way to the crown, she has showcased immense talent beyond compare. And having the title of the Philippines' first drag superstar seems like the validation of a lifetime for a drag artist like her who has been in the industry for many years.
"I'm so happy, thankful, overwhelmed, and honored kasi I've been manifesting this for the past eight years now. It means the world to me and it's like a reward for my twelve years in drag. Ibig sabihin, I'm doing something right and inspiring more people now. Thank you, Drag Race, and pareng RuPaul."

Precious Paula Nicole on her win as the first-ever winner of Drag Race Philippines
Helping the less fortunate
Of course, what comes with the title is a huge cash prize that can totally change a life. With the prize money of one million Philippine Pesos, Precious has weighed in on how she will spend it.
"Mag-iipon muna and magtatayo ng maliit na business. Paunti-unti, para pag natuto na ako sa business, dun ako magdedecide kung ano ang dapat gawin sa pera. And syempre, parts ng premyo ko itutuloy ko yung nasimulan ko na tumulong sa mga nangangailan, like sa Golden Gays, na malapit ko na silang i-meet very soon."

Precious on how she will spend her prize money
Just recently, Precious touched the hearts of many when she started a fundraiser in the aftermath of Typhoon Karding and later on donated it to the Angat Buhay NGO, which was before the announcement of her win in the show. This further proves how Precious has the heart to lend a hand to the less fortunate and will probably help a lot more in the future, especially with her title and startup money.
Having her heart shine in every performance
All of the evidence proves how Precious' heart shines in everything that she does, no matter if she is helping others, walking the runway, or performing, she guarantees that people see her luminous persona.
"I don't translate my heart through my drag, because it shines on its own while I'm doing drag. I make sure that every performance and everytime I do drag, kailangan din kasama yung heart. Kaya siguro din mas maraming nakaka-connect sa akin kasi mas pinagpepeperform ko yung heart ko kaysa sa katawan ko and sarili ko."

Precious on having her heart shine in every performance
Attaining the prestige of such a title, Precious Paula Nicole certainly achieved something only others have dreamt of or are still dreaming about. Now, as a beacon of hope to those who don't have the resources, only the talent and the heart, she imparts a message to all the dreamers,
"Follow your heart, of course, Ikaw at ikaw ang makakaalam kung ano yung para sa'yo. And kapag dumating na yung time na sure ka na, edi simulan mo na agad yan. Wag ka nang patumpik-tumpik pa kasi time is running out. And punta ka lang sa mga taong alam mong makakatulong sa'yo. Tapangan mo lang ang loob mo kasi mas marami pang magagandang bagay ang puwedeng mangyari pag sinunod mo ang puso mo."

Precious Paula Nicole on achieving one's dream
As these three incredibly brilliant queens triumphed over the challenges of Drag Race Philippines, having honed their charisma, uniqueness, nerve, and talent even more, now with a more huge army behind their backs and lessons they have learned, they embark on a more exciting journey of entertaining their audience and conquering the drag scene. With the fabulousness of the Campy, the adaptability of the Divergent, and the kindness of the Heart, they shall rule the world with their drag that is immaculate… or shall I say, Divine.

Publisher | Richie de Quina & Gwynn Crisostomo
Editor-in-Chief | John Luke Chica
Senior Editor | Rapha Garcia
PR & Advertising Manager | Josh Austria
Digital Manager | Allen Esteban
Words by Rapha Garcia

Producer | Josh Austria
Photographer | Roj Miguel
Photo Manipulation | Natu Xantino
Videographer | Pogs Francisco
Makeup | Paige Seneres
Hair | Arthur Tolentino
Stylist | Jowie Namayan of Namayan Studios
Designers
Suits | Ryan Chris & Louver Del Castillo
Shoes | Dope Footwear
Special thanks to Hanysofia Capistrano, Tea Ni Juan, Papay's Franchise and Jacko's Burger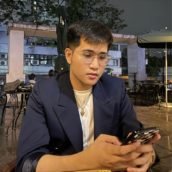 Raphael Garcia
Raphael is a person born between the generations of Millenial and Gen Z. He was produced by Cavite State University (Main Campus) with a bachelor's degree in Political Science. The lad has a fresh take on things, but can still stay true to his roots. He writes anything in Pop Culture as long as it suits his taste (if it doesn't, it's for work). He loves to wander around the cosmos and comes back with a story to publish.