Play nostalgic street games with your kids and get free sari-sari store treats. Tara, game! Bring your kids on a nostalgic trip down memory lane at Market! Market! for World Play Day. Let them experience your carefree childhood with free sweets and snacks from Aline Nena's Sari-Sari Store. Of course, you can do all these challenging each other on jackstone, sungka, and chess. 
TARA, GAME! Relive your childhood at Market! Market!
Are you ready? Just shop at Market! Market! and present a ₱1,000 receipt to play from June 12 to June 15. Then, grab your favorite treats from your suking tindahan!
What are you waiting for? Tag your fam and friends now to come and play along!
For more information on mall activities, schedules, and promotions at #iLoveMarketMarket. You can also like and follow on Facebook, Instagram, TikTok, and Twitter!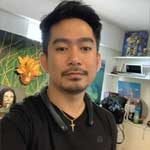 Josh Austria
Aside from being a businessman, Josh Austria has been working in PR and media industry for more more than a decade. From his years of experience as the Marketing and Advertising Head of Village Pipol Magazine, he has built strong relationships with creative people, brands, and organizations.