Most probably you are now wondering why the skyline in Metro Manila and nearby areas seem gray and hazy. This is probably because of the poor air quality in our country and the sulfur dioxide plumes coming from Taal Volcano!
Sulfur dioxide in the air due to Taal Volcano
According to volcanologists from The Department of Science and Technology-Philippine Institute of Volcanology and Seismology, the air blew the SO2 plumes so they spread over Metro Manila and nearby provinces like Batangas, Laguna, Cavite, and others.
Taal volcano remains at Alert Level 2, indicating that "the threat of sudden steam or gas-driven explosions and lethal accumulations or expulsions of volcanic gas can occur."
This statement is contrary to what the agency reported a day ago. State seismologists denied reports that the "haze" observed in the capital region was due to the Taal volcano's smog. They said that human-made pollution was to blame for this occurrence.
They even sent a separate note that says, As such, the haze that is being experienced in the NCR may be mainly due to smog, or industrial air pollution, rather than vog, although we cannot completely rule out additional [sulfur dioxide] albeit very minor at this point.
But now DOST-Phivolcs stands to acknowledge evidence of the actual wider extent that volcanic SO2 has actually spread over NCR (National Captial Region) and adjoining provinces. It admits the validity of several observations that the public has aired. It added, "Our Institute had initially negated these observations due to the lack of substantiating evidence on our part."
Is volcanic smog harmful?
Philvolcs explained that sulfur dioxide may cause irritation on the eyes, nose, and throat. This depends on the concentration, duration of exposure, and health condition. Moreover, volcanic smog can make existing asthma symptoms worse.
So what can you do to protect yourself or your child from smog if you have asthma or allergies? Here are some tips to stay safe from smog:
Keep track of the daily air quality index
Check local news reports so you'll know how high the pollution levels will be that day. When the color-coded alert level reaches the orange level, the air is apparently unhealthy for sensitive groups. People with respiratory conditions such as asthma, especially children, should take precautions.
Stay indoors and avoid outdoor activities as much as possible
When the air quality index goes past orange and up to the red alert level, the air quality is rated "unhealthy." People with asthma or severe allergies must avoid going out. If you must go outside when the air quality index is poor, do it in the morning.
Wear a mask to cover your mouth and nose
Masks can help filter out irritants that aggravate allergy and asthma symptoms. But note that you have to choose the kind to wear when there's volcanic smog. N95 masks offer up to 95% filtration, which means they're usually more difficult to breathe through. What's more, industrial respirators such as N95s leave almost no gap to ensure the mask fits as tightly against the face as possible for optimal protection.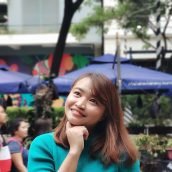 Queenie Lastra
Queenie Lasta got her bachelor's degree in Communications Research from UP Diliman. In her free time, she likes to read thriller novels, psychology books, and mangas. She believes in the importance of grit, hard work, and passion to become a great writer in the future.