Spotify is still the number 1 music streaming app worldwide
Photo Credit: https://www.spotify.com/ph/
There's no doubt that music is a big part of everyone's lifestyle, regardless of age, interests, and even nationality. Why? One of the strong evidence is the 358 Million subscriptions for online music streaming applications. As for Spotify, it gained 23 percent growth in earnings while maintaining its top position.
Music streaming continues to surge even with the pandemic
The focus of music streamers is mainly on the creation of exclusive content. According to a study from Counterpoint, the availability of exclusive content like podcasts and original songs has drawn the attention of listeners towards the platform. This gradually turned them into subscribers, resulting in notable growth.
In addition to that, discounts, promos and bundled offers in subscriptions also contributed to the revenue increase. By the end of this year, Counterpoint projected that overall subscriptions will go beyond 450 million.
With a 31 percent share in the total profit and 35 percent share of total paid revenue, Spotify ranked first. Apple Music landed second place with a 24 percent share of the total revenue and a 19 percent share of total paid subscriptions. Apple's strongly focused on its service segment, including Apple music so its subscription increased 36 percent. Meanwhile, Amazon Music has the third-largest portion, with a 15 percent share in terms of subscription.
More than 80 percent of music streaming profit was generated from paid subscriptions. The rest came from brand ads and partnerships. It means increasing paid subscriptions is quite important for music streaming platforms.
Moreover, a research analyst from Counterpoint discussed the effect of COVID-19 pandemic on the online music streaming industry. He explained that the sector will experience an upward trend since people are staying in their homes. However, their media consumption changed from music streaming to the radio. Those who live in areas with severe cases are worried about the pandemic hence they stay tuned for updates and news.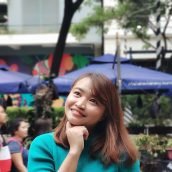 Queenie Lastra
Queenie Lasta got her bachelor's degree in Communications Research from UP Diliman. In her free time, she likes to read thriller novels, psychology books, and mangas. She believes in the importance of grit, hard work, and passion to become a great writer in the future.