Lenovo PH released a collection of budget-friendly tablets, price starts at PHP 4,250
Selecting the right tablet can be pretty confusing, especially nowadays that a lot of brands have cheap and high-end choices. Lenovo is a reputable and trusted brand in terms of electronics. The great thing is, it added a tablet collection with ten options. It consists of the following: Tab E7, Tab M7, Tab M7 LTE, Tab M8, Tab M10, Tab M10 Plus, Tab M10 Plus LTE, Tab M10 Plus LTE 4GB/64GB, Tab P10, and Tab V7.
Lenovo has 10 new tablets you can choose from
The E7 is an entry-level tablet with a 7-inch display, 1.3GHz MT8321 quad-core processor, 1GB RAM with an 8GB storage. It has a 2,750mAh battery, 3G connectivity, and Android OS. Next is the M7  that sports a 7-inch  IPS display, 1.3GHz MT8321 quad-core processor and, 1GB RAM. For storage, it has a 16GB 3,500mAh battery, 3G, and Android OS.
Meanwhile, the M7 LTE has the same screen as the M7. However, it uses a higher-end 1.3GHz MT8765 quad-core processor with 4G LTE. The device also has 2GB RAM, 32G storage, and 3,500mAh battery. The M8 tablet features an 8-inch IPS screen with HD, 2.0GHz Helio A22 quad-core processor, 2GB RAM, 32Gb storage, 5,000mAh battery, and LTE connectivity.
The fifth on the list is M10, a larger tablet with a 10.1-inch IPS display and HD. This one runs by a 2.0GHz Qualcomm Snapdragon 429 quad-core processor with 2GB RAM, 16GB storage, 4,850mAh battery, and 4G LTE.
Another tablet is the V7  that comes with a 6.9-inch screen and slim bezels. It uses Qualcomm's Snapdragon 450 octa-core processor with 3GB RAM, 32GB storage, and 5,180mAh battery. It also has an optimized camera, fingerprint scanner, face unlock, and 4G LTE.
Furthermore, Lenovo offers the M10 Plus that comes with a 10.3-inch IPS screen with FHD, 2.3GHz Helio P22 octa-core processor, 2GB RAM, 32GB storage, and 5,000mAh battery. Additionally, it has a version with 2GB RAM/32GB storage and 4G LTE and a higher-end model with 4GB RAM/64Gb storage and 4G LTE.
The last tablet in the collection is the Lenovo Tab P10, also dubbed as a "premium family tablet".  This one uses a 10.1-inch IPS screen with FHD 1920 x 1200 resolution, SD450 SoC, 4GB/64GB storage, 7,000mAh battery, 8MP main cam, 5MP selfie cam, and 4G LTE.
You can visit the official Facebook page of Lenovo Philippines for more details about their pricing and availability. Who knows? You might find the tablet that suits your taste and budget.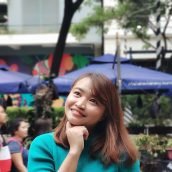 Queenie Lastra
Queenie Lasta got her bachelor's degree in Communications Research from UP Diliman. In her free time, she likes to read thriller novels, psychology books, and mangas. She believes in the importance of grit, hard work, and passion to become a great writer in the future.