James Reid Releases new album 'lovescene:'
Careless Music's founder and president and, certainly, one of the country's most notable musicians, James Reid, drops the highly anticipated sophomore album released under his music label entitled 'lovescene:' today, 13 October, 2022.
Five years since the release of 'Palm Dreams', James Reid returns with 'lovescene:', an album with 10 tracks produced both locally and internationally.
Meanwhile, starting off strong with the release of its lead single 'u & i', a track centered on his longing for privacy, lovescene: is an exploration of the cycle of life and death that exists within romantic relationships. The album boasts internationally renowned producers such as The Stereotypes features with international artists such as Woosung from The Rose, and Destiny Rogers.
Prior to his ventures as founder and president of Careless Music, James was and continues to be a widely popular singer and actor in the Philippine film and television industry, with over a decade of experience under his belt. In addition, he has been in multiple award-winning films and television shows which turned him into a household name in Philippine entertainment. 
Ever since he joined showbusiness almost 12 years ago, James' relationships have been at the center of local and eventually global media's interest.
This fascination with his love life has created a lot of misconceptions with who James is when it comes to his intimate relationships. And now for the first time in his career, James is choosing to end all false speculations by facing the hot topic head on by turning his sentiments on the topic of love into an album.  
Through lovescene:, for the first time, James directly addresses his complicated love life, the attention it gets in public as he tries to keep it private. He expresses a deeper, more vulnerable, and romantic side to himself than what he usually reveals to the public. Stepping away from his life in showbusiness to focus on his musical craft has become evident through his work on lovescene:. Indeed, the essence of the album is embodied in its soulfully produced tracks accompanied by James' raw and sincere lyrics that take the listener through the highs and lows of intimacy and romance. 
A sonic journey on the life and death cycle of romantic relationships is shown through James' experiences. 
Track titles:
cali lovin (2:56)
u & i (3:03)
fallin (3:39)
chasin (3:08)
always been you (2:39)
hold on tight (feat. woosung) (3:14)
lie to me (feat. destiny rogers) (2:40)
stay (4:01)
spotlight (3:21)
bring me back (2:51)
'lovescene:' is available on all major streaming platforms accompanied by one visualizer per song, followed by a music video for 'lie to me' featuring Destiny Rogers the following week.
For updates on Careless Music and James Reid, please refer to the following social media accounts:
Careless Music Instagram | @carelessph
Careless Music Twitter | @careless_ph
Careless Music Facebook | CarelessMusicOfficial
James Instagram | @james
James Twitter | @tellemjaye
James TikTok | @jamsred
James Spotify | James Reid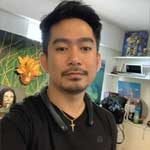 Josh Austria
Aside from being a businessman, Josh Austria has been working in PR and media industry for more more than a decade. From his years of experience as the Marketing and Advertising Head of Village Pipol Magazine, he has built strong relationships with creative people, brands, and organizations.