'Squid Game' star Jung Ho-Yeon to meet her Filipino fans this November
Photo from Jung Ho-Yeon (IG)
Are you one of the many Filipino fans of the Netflix drama "Squid Game?" Or are you awaiting the release of its second season while looking forward to meeting any of the cast soon?
If that is the case, the good news is in! Squid Game actress Jung Ho-Yeon is coming to the Philippines this November.
On October 12, concert promoter Wilbros Live took to Instagram to share the announcement among Filipino fans. Posting a photo of the South Korean star, they revealed the event titled "JUNG HO-YEON 정호연 Fun Meet in Manila."
They wrote in their caption, "Catch the Korean actress and supermodel in her first fun meet event!"
In addition, the fan meeting will take place at the New Frontier Theater in Araneta City on November 11. Yet to be disclosed are other details like the schedule for buying tickets and their prices. Hence, fans will have to stay tuned.
Jung Ho-Yeon rose to her peak stardom following the success of the 2021 television series Squid Game. She left the viewers with a remarkable impression through her portrayal of the character Kang Sae-Byeok. For this legendary role, she even won recognitions, including the Screen Actors Guild Award for Outstanding Performance by a Female Actor.
In 2022, Jung Ho-Yeon made history as the only actress from her country featured on TIME Magazine's prestigious list of rising leaders. The same year, the 28-year-old icon also became the first South Korean personality to have a solo cover image for Vogue Magazine.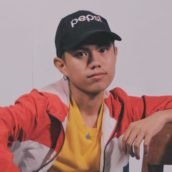 Renzneil Robles
Renzo is an introvert who prefers to do things at his own pace. Unlike most writers, he reads lazily. Watching Korean dramas at night is his constant source of comfort. Although oftentimes commended for being outspoken, he speaks better through writing than with his words.