Shoppers love IKEA because of how relatively affordable its furniture is. In other countries, a lot of their products cost about half the price of competitors.
No walk-ins for health and safety reasons
IKEA is also able to cut costs and keep prices low because of the way that it sells its products. In 1956, Ingvar Kamprad introduced "flat packing," the method now synonymous with IKEA that cuts costs by letting consumers purchase their furniture in pieces and assemble it themselves. While it may be annoying to assemble the furniture yourself, this allows the company to charge less for everything.
Now Filipinos may now enjoy this concept, especially for the Titos and Titas who love home makeovers. IKEA finally introduced its biggest store to date, it's no other than the one in Pasay City! However, note that they are not accepting walk-ins and the reason behind it is on their website. Basically, IKEA PH is just making sure that everyone gets to shop safely in their store.
"Our focus is the health and safety of our co-workers, customers, and service providers as we work together to stay safe and healthy based on frequently updated recommendations from the Philippine Government in adherence with IATF's Alert Level Systems for COVID-19 Response."
How to book a slot at IKEA PH?
They have set up an online booking system to make sure social distancing is set in place. To book a slot, just click on this link in which a standard message will appear on your screen.
After that, all you need to do is pick a date. You may choose your time schedule from the morning, afternoon, and evening, with 30-minute intervals. Note that there are slots that are full and there are slots that are reserved for "senior citizens, persons with disabilities (PWDs) or medical conditions, and pregnant women only."
After selecting the date and time slot, you will be asked to choose how many of you will be going under your booking. Per booking, they only accept up to three persons, including you.
Remember to double-check your booking details before confirmation. You must encode your mobile number to request a one-time password (OTP). Aside from that, you'll need to enter your full name and e-mail address, then click "Sign Up."
The next step is waiting for both e-mail and text confirmations. IKEA will send you a QR code which you will present upon entry. And you're done!
Enjoy your early holiday shopping with a friend or two, but do not forget to follow health protocols.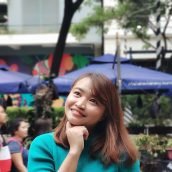 Queenie Lastra
Queenie Lasta got her bachelor's degree in Communications Research from UP Diliman. In her free time, she likes to read thriller novels, psychology books, and mangas. She believes in the importance of grit, hard work, and passion to become a great writer in the future.